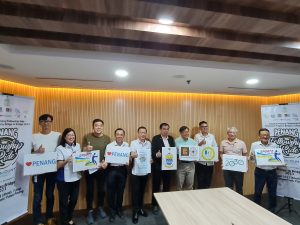 Penang, 11 October 2022: Some 2,000 cyclists are expected to ride at The Penang Fellowship Ride, Bridge to Bridge 2023, on Sunday, 8 January 2023, where Paramount Property is the title sponsor.
The much-anticipated 66-km cycle will be organised by the Penang State Government and G Club Penang Cyclists, with the support of Majlis Bandaraya Pulau Pinang, Majlis Bandaraya Seberang Perai, Lembaga Lebuhraya Malaysia, Jambatan Kedua Sdn Bhd and Polis Diraja Malaysia.
The inaugural event on 30 June 2019 was called Penang International Bridge2Bridge Ride, whereby Paramount Property was also the title sponsor. There were no rides in 2020 and 2021 due to the Covid-19 pandemic.
Paramount Property CEO for Northern Region Mr Ooi Hun Peng said, "It is a privilege for Paramount Property to participate in this iconic bridge to bridge ride again as the title sponsor."
"We appreciate the Yang di-Pertua Pulau Pinang TYT Tun Dato' Seri Utama Ahmad Fuzi bin Haji Abdul Razak who has shown great support for this event, and as I understand, will be cycling himself.
"We applaud Penang Exco for Youth and Sports, YB Mr Soon Lip Chee, whose enthusiasm and perseverance together with the G Club Penang Cyclists leadership, and the Majlis Bandaraya Pulau Pinang and Majlis Bandaraya Seberang Perai for making this excellent initiative happen after an absence of two years.
"As the People's Developer, we want to build healthy communities and bring positive changes. Paramount Property believes that one of best ways to uplift communities is to promote health and wellness with healthy community activities such as the Penang Fellowship Ride, Bridge to Bridge 2023," Ooi added.
Paramount has property development projects in Penang, Kedah, Kuala Lumpur and Selangor.
G Club Penang Cyclists president Dato' Dr Lim Seh Guan in a Press briefing said cyclists will be flagged off from Queens Waterfront at 7.00am, and cyclists would ride across the first Penang bridge to Seberang Perai (and cycle along secondary roads via Juru) and return to the island via the second Penang bridge, also known as Sultan Abdul Halim Muadzam Shah Bridge, which is 24km in length and the longest bridge in South East Asia. There will be a water stop at Utropolis Batu Kawan, an ongoing development by Paramount Property, before the cyclists make their way on the second bridge.