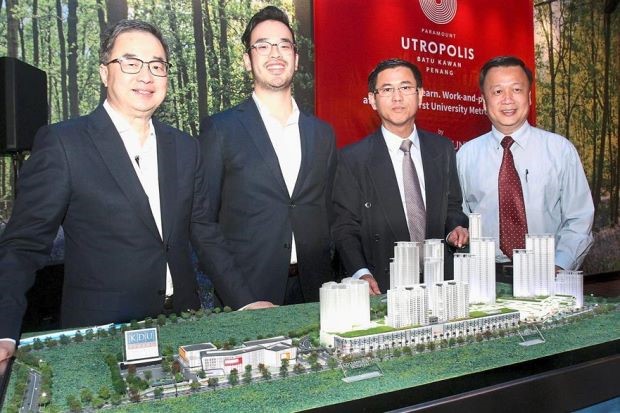 (From left) Paramount Group chairman and executive director Dato' Teo Chiang Quan, Paramount Property innovation director Benjamin Teo, Chew and Paramount Property (Utara) chief executive officer Ooi Hun Peng showing a scale model of the Utropolis Batu Kawan at Utropolis Glenmarie in Shah Alam.
PARAMOUNT Property is marking its first venture into the Penang property market with the introduction of Utropolis Batu Kawan.
The integrated development that adopts a university-metropolis concept is the second after the Utropolis Glenmarie project in Shah Alam, Selangor.
Measuring 17.92ha, the Utropolis Batu Kawan brings together several components including residential, commercial, retail and hotel, as well as the project's focal point – the 4.25ha KDU Penang University College owned and operated by Paramount Education.
According to Paramount Corporation Bhd group chief executive officer Jeffrey Chew, the concept first materialised when Utropolis Glenmarie was launched in 2013.
"That was the first time we brought together our two core businesses of Paramount Property and Paramount Education in one location."
He said the concept was well met in the property market, resulting in its first phase being sold out in a matter of days.
"University metropolises are unique in that they never grow old.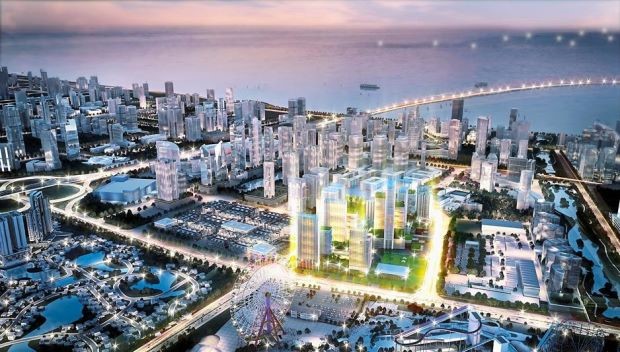 Artist's impression of the Utropolis Batu Kawan cityspace.
"The constant infusion of new students acts as a catalyst to attract lifestyle business and support services, creating a dynamic and evolving community," stated Chew./p>
"This in turn creates a vibrant real estate market with constant demand for investment and rental residential and commercial properties."/p>
Aside from its first phase of serviced apartments having been fully sold and handed over, Utropolis Glenmarie's SoHo in phase 2A is also fully sold while the apartments in phase 2B already have a 93% take-up rate./p>
Phase 3's 389 units of serviced apartments is the next to be launched in the first quarter of next year./p>
Following the same blueprint for success, Chew said Paramount Property's vision for Utropolis Batu Kawan was to support Penang's aim to make Batu Kawan its third satellite city as well as a central business district and lifestyle hub of the northern region./p>
"At over 2,428ha, Batu Kawan is not just a major development but also the only landbank in Penang and northern region where the infrastructure is completed ahead of property developments," he added./p>
Batu Kawan has attracted major brands to its locale, with Ikea and outlet mall Design Village Penang expected to open.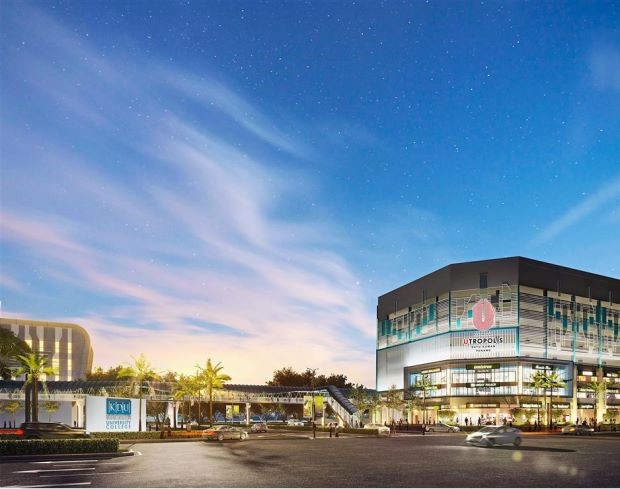 Artist's impression of the upcoming KDU Penang University College in Utropolis Batu Kawan.
Utropolis Batu Kawan has an approximate gross development value of RM1.8bil.
It is located one kilometre from the second Penang Bridge and the North-South Expressway.
So far, the project had a soft launch for its three-storey commercial blocks, comprising 196 units of offices and retail shops.
"Launched only about a month ago, this already has a 70% take-up rate.
"Next, we will be launching 612 units of studio apartments in January 2017," said Chew.
The developer looks to have a gradual completion of its residential and commercial components with facilities to follow in order to meet the education institution's completion in 2019.