By
Syafiqah Salim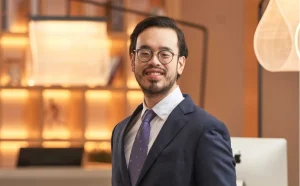 Paramount Corp Bhd deputy group chief executive officer Benjamin Teo Jong Hian
KUALA LUMPUR (Dec 8): Paramount Corp Bhd deputy group chief executive officer Benjamin Teo Jong Hian has emerged as a substantial shareholder in the property developer.
Teo, who is the son of the group's late chairman Datuk Teo Chiang Quan, is deemed to have an interest in 178.32 million Paramount shares pursuant to a transmission of these shares on Thursday (Dec 8).
This comprises 154.52 million shares registered under the name of a family-owned private company Paramount Equities Sdn Bhd (PESB), 16.22 million shares under Bunga Indah (M) Sdn Bhd, and 7.85 million shares under Rockwills Trustee Bhd Teo Chiang Quan
According to Paramount's bourse filing, Teo holds a 0.219% direct stake or 1.36 million shares in the company, and 28.718% indirect stake (178.61 million shares).
Teo joined Paramount's board as an executive director in August 2019, before being appointed as deputy group CEO in September 2021.
Shares of Paramount closed up half a sen or 0.66% at 76 sen on Thursday, bringing the group a market capitalisation of RM472.66 million.
Edited by S Kanagaraju
As published:
The Edge