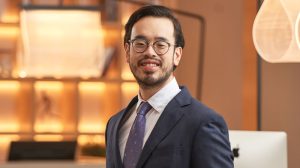 Benjamin Teo Jong Hian
PETALING JAYA: Benjamin Teo Jong Hian, the son of the late Datuk Teo Chiang Quan, the former chairman of Paramount Corp Bhd, has become a substantial shareholder of Paramount effective today.
In a statement, Paramount said Benjamin has a total interest of 28.9% in the company pursuant to a transmission of shares, which are registered in the name of Paramount Equities Sdn Bhd, Bunga Indah (M) Sdn Bhd and Rockwills Trustee Bhd Teo Chiang Quan.The late Datuk Teo was Paramount's chairman and executive director when he passed away on May 24, 2021.
Benjamin, 33, is Paramount deputy group CEO and executive director of Paramount. He was appointed to the board of directors on Aug 22, 2019.
Since 2021, he had the overall responsibility of formulating and implementing strategic and operational plans for Paramount Property and navigating it to the next stage of growth.
As published: The Star