Yeoh (seated) and Prabakaran (standing second from right) observing Dignity for Children Foundation learners showing their project.
By 
A. KINANCY SUSANNE
THE first-ever Sentul Festival 2019 is an initiative that highlights the power of education in changing the lives of the urban poor and the marginalised.
It is initiated by the Dignity for Children Foundation of Sentul along with Paramount Corporation Bhd, and comes under the Education for All campaign.
It seeks to provide underprivileged children with community-based education so that they can become productive members of society.
The campaign with the tag line "Education for All: Sentul Leads the Way" was launched by Deputy Women, Family and Community Development Minister Hannah Yeoh together with Batu MP P. Prabakaran, Paramount Corporation chairman Datuk Teo Chiang Quan and Dignity for Children co-founder Rev Elisha Satvinder.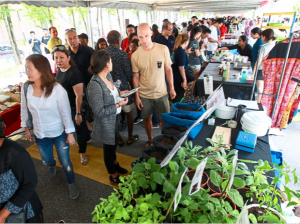 Visitors looking through various products at the bazaar.
The festival, which was held over two weekends, featured workshops for children. There were also 60 exhibition booths and various food trucks.
It took place at the Dignity for Children premises in Sentul Raya Boulevard, Kuala Lumpur.
"Local initiatives like this are important to ensure that children's welfare and education are taken care of, " said Yeoh.
"Events like Sentul Festival help uplift the local socio-economic situation by transforming the community's mindset and focusing on children's holistic development.
"The vibrancy and learning opportunities this festival offers are a wonderful inclusion in the lives of the local communities, especially the urban poor.
"We want to make sure all children, irrespective of their background, get the education they deserve, " she added.
Teo hopes to create a positive impact on the community around them through the campaign.
The sponsorship is also to celebrate Paramount Corporation's 50th anniversary.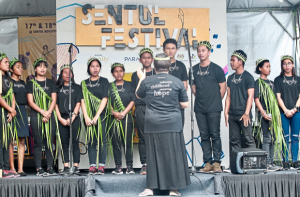 Orang Asli performing at the launch of Sentul Festival 2019.
Teo said Sentul Festival was in line with the company's vision of Changing Lives and Enriching Communities.
"We are extremely happy to collaborate with Dignity for Children in this festival and we applaud their effort to promote lifelong learning for the community, " he added.
The festival included live performances by Orang Asli communities, interactive workshops, handmade crafts bazaar as well as a variety of Malaysian delicacies.
There were over 103 interactive workshop sessions facilitated by community experts covering topics revolving around lifelong education and the importance of holistic development for children.
The workshops were divided into three categories – education, arts and culture as well as health and wellness.
Prabakaran said the activities in the festival were a great way to bring awareness of how education could be transformational."The series of formal and transformational educational activities driving this campaign has been a springboard for the people of Sentul to engage not only as a community but also a nation, " he added.
As published: https://www.thestar.com.my/metro/metro-news/2019/08/20/bringing-positive-change-to-sentul