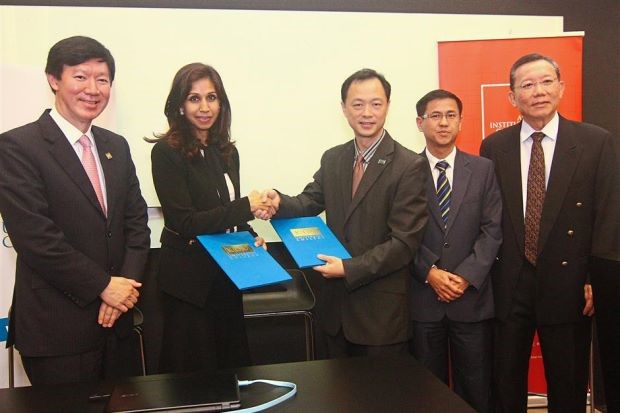 Working together: AICB interim head administrator Shireen Kandiah (second from left) exchanges documents with Prof Hiew (third from right) while (from left) Ong, Paramount Corporation Berhad Group chief executive officer Jeffrey Chew and HSBC Bank Malaysia Berhad independent director and AICB education committee Choo Yee Kwan look on. 
In ensuring that their Accounting, Finance and Banking students are up to date with the current trends and demands of the professional banking industry, KDU University College has signed a memorandum of agreement (MoA) with the Asian Institute of Chartered Bankers (AICB).
"The banking and finance industry needs graduates and talent who are strongly grounded in terms of their core knowledge and who are up to speed and date with the current practices and trends (of the industry).
"This is one of the key pillars in the current collaboration between AICB and KDU University College," said KDU University College vice-chancellor Prof Dr Hiew Pang Leang.
This three-year collaboration will see the university working closely with the professional body for the banking and financial services industry to share the current thinking and needs of the market. It will also ensure students are exposed to appropriate teaching pedagogy.
"Through this collaboration with AICB, students who have gone through a KDU University College education will be recognised by AICB as part of the professional banking industry.
"It gives a professional body such as AICB direct access and view into the content of our curriculum and the way we teach our students to ensure that our curriculum meets the core need of the industry," he added.
Prof Hiew said that the close ties with AICB through this collaboration will lead to the exemptions in the modules offered by AICB in chartered banking for students.
"What we are trying to work towards is a larger platform which allows, for example, internships or expert sessions to be facilitated through AICB where experts from the industry will share their views and expertise," he added.
OCBC Bank Berhad chief executive officer and AICB council member Ong Eng Bin said the partnership is inspired by their aim of promoting high standards of education in the banking and financial services industry.
"Universities and colleges play a significant role in developing an employable talent pipeline for the industry.
"We're looking for professional workers that demonstrate a high degree of professionalism and behaviour in the workplace," he added.
When banks hire, he said they also look at specialisation in the candidate's initial years.
Ong said that internships are one way to use the knowledge gained during their years spent in university at the workplace.
Upon the signing of the MoA, the varsity held a dialogue session among industry experts and students called "Professionalism in Education – Roadmap Towards a Professional Career" to share insights into the industry.