Date: 04 Aug 2006
Title: Building on a fine reputation
Source by: The Sun – Property Plus
Written by: Diana Chin
Summary: Overnight queues at new property launches are a rare sight these days but when it happens, the reasons are usually simple.
Building on a fine reputation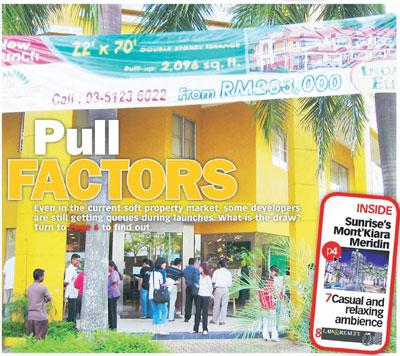 Overnight queues at new property launches are a rare sight these days but when it happens, the reasons are usually simple. Buyers want to have the first pick of the best lots, so to speak. Especially those units with "good" numbers, faces parks, end and corner lots.
This is exactly what Paramount Property Development Sdn Bhd experienced recently at its launch of Indah Elite, the latest phase in its Kemuning Utama development in Shah Alam. Although the numbers could not compare with the developer's launch last year which saw a crowd gathering at its sales office in Kemuning Utama five days in advance, it is heartening to note that some developers are still able to get queues in the current soft property market.
Paramount Development's sales and marketing manager Michael Ching said the developer did not turn away the 20-odd crowd who came a day earlier. Instead, they were given numbers to come back the next day. "These were serious buyers who knew what they wanted and I think the pull factor for them was that our units already come with addresses, not just lot numbers. Purchasers were able to pick nice numbers such as 8, 18 or 28 on the spot rather than wait to see their house numbers once the property is developed," Ching told Propertyplus.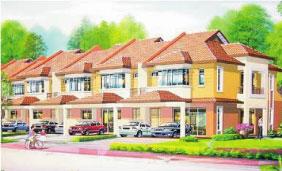 Artist's impression of the Kemuning Utama homes
Kemuning Utama is a 525-acre freehold development situated just off the interchange of Kota Kemuning. It is accessible from the Kesas Highway, NKVE, North-South Central Link, New Pantai Expressway, Jalan Bukit Kemuning and the proposed Bukit Rimau Interchange. The project is divided into two precinct, east and west. The eastern precinct of 186 acres comprises some 1,500 units of link homes, link semidees and semidees in a gated and guarded environment. Launched in 2004, it is 98% sold.
About three weeks ago, the developer launched 123 units of link homes in its western precinct. This tract of 338 acres will involve 335 units of 22ft x 70ft link homes and low- and medium-cost units.
Good take-up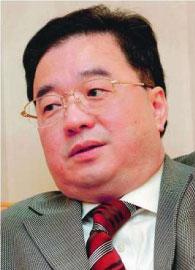 Teo: Pleasantly surprised by the good take-up
In an interview with theSun in June, Datuk Teo Chiang Quan, chief executive officer of Paramount Corp ( the parent company of Paramount Development ) said he did not want to sound like a "doomsayer" when he observed that the market was not as strong as last year. He had said the acid test would be the take-up of the company's new phase in the western precinct. The test is over and the results have exceeded expectations. The developer sold about 60% in just over 2½ weeks after its mid-July launch.
"We were pleasantly surprised by the better-than-expected take-up. Initially, we were a bit sceptical whether to proceed with the launch of our latest phase in the current soft market. However, we have always believed that good product offerings at reasonable prices and location will always sell. Furthermore, our reputation as a builder of quality homes and our ability to deliver on our promises have accorded us some loyal customers. They have no qualms in introducing their friends or relatives to purchase units in our new launches," said Teo.

It᾿s well worth waiting for a good property
Ching added that even without a show unit, buyers were confident the developer would be able to deliver on its promise. And purchasers of the new launch units will get exactly what they see now in the eastern precinct. These would include wide landscaped roads, lots of greenery including cul-de-sacs leading to parks and pockets of greenery, perimeter fencing, 24-hour security with guard dogs and smart access cards entry into the community. Apart from a practical design, which offers a large built-up, buyers can also expect 11ft-high ceiling, ensuite bathrooms in all bedrooms and side-by-side parking. And, of course, the best thing about the new launch, according to the developer, is the pricing in the range of RM283,000 and up. "You won᾿t be able to find anywhere else in the vicinity," said Ching, reiterating the fact that it will be a gated and guarded community. At the moment, residents at the eastern precinct pay RM30 per month for security – a very reasonable amount, according to Ching.
With the hike in fuel prices and interest rates going up, the developer gave itself a longer time frame for the western precinct to take off. "At the outset, we felt that a 70% take-up within three months would be reasonable. The strong take-up of 60% for the 123 units launched has surprised us and it definitely exceeded our expectations. We are thankful that our customers have held us in good stead even during the current soft market," said Teo.
"Certain banks have also expressed their surprise in the good take-up in times like these," added Ching.
Moving forward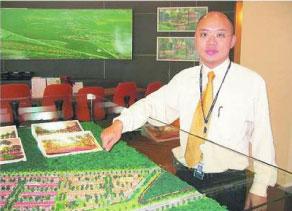 Ching: Purchasers able to pick nice numbers on the spot
No stranger to property development, Paramount Corp has been in the business for more than 25 years. Its award-winning township of Bandar Laguna Merbok in Sungai Petani Kedah is testament enough. The first gated-and-guarded RM1 billion resort themed township won the Award of Distinction for best residential project in 2004 from the International Real Estate Federation (Fiabci) Malaysian chapter. The township is now in its tail end of development with very little left, according to Teo. As such, Paramount is moving forward with the launch of a new development about 5km from Bandar Laguna Merbok, having acquired 580 acres of land there. This will take the developer 11 to 12 years to complete.
On Kemuning Utama, Teo said Paramount is giving purchasers good value for money in terms of pricing and also a chance for them to make some money where investment is concerned. The western precinct will take Paramount another five to seven years to complete.
"Generally, we feel that the property market is still not as strong compared with last year. However, with Bank Negara temporary capping the overnight policy rate at 3.5% and thus, BLR [base lending rate] at 6.75%, there should be some sporadic sales take-up in projects that offer unique differentiation from mass products that are being pushed to potential home owners," he said.
"On our side, we are looking forward to the launch of the second phase of Indah Elite by October at a higher price. Thus, we would advice those who are contemplating buying in Indah Elite to do so now, as the current price of RM283,000 is going up soon," Teo added.