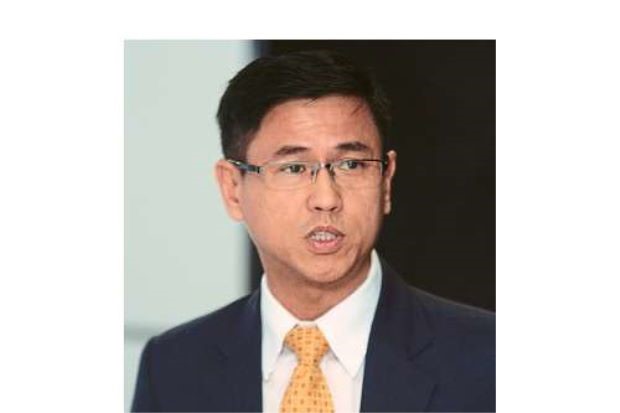 Chew: 'If you look at property and education, it's not too different from banking.'
Former OCBC banker adjusting to life in education and property with Paramount
AFTER spending over two decades in finance, Paramount Corp Bhd group chief executive officer Jeffrey Chew describes his sudden shift into education and property last July as "wearing a different jersey on a different pitch".
"Instead of being on a hockey pitch, I'm now on a football field. If you look at property and education, it's not too different from banking.
"At the end of the day, we have consumers as customers and it's about how you develop and sell your products to them," the former high profile banker tellsStarBizWeek.
Paramount's core business is property development, with its portfolio including Kedah's first gated and guarded residential development Bandar Laguna Merbok and the live-and-learn Paramount Utropolis integrated mixed development, anchored by the new KDU University College campus, in Glenmarie, Shah Alam.
It also owns the KDU Education Group, which is a complete education services provider for primary, secondary (both national and international curriculums), undergraduate and post-graduate levels, namely the Sri KDU schools, KDU University College and KDU College Penang.
Chew says that having spent the past 11 years at CEO level in banking, he has gained a strong understanding of the property and education industries while dealing with property developers and education players.
Having been on the lending side for so many years, the former OCBC Bank (M) Bhd chief executive says that he thought it was "about time to actually see the other side of the fence".
He notes that besides Paramount's exciting growth prospects, he had also chosen to venture into these two specific industries because education and property are two vital investments that people make in their lives.
Chew, an accountant by training, strongly believes that Malaysia needs to produce better graduates that have strong potential in the workforce so it can compete with the rest of the world.
"So with my involvement, at least I can say 'hey, I had a hand in it' in terms of nation building and development of talent in Malaysia.
"As for property, I have always been intrigued about how it works and now I have the chance to get my hands dirty and mould and craft the product myself," he says.
He also adds humorously, "And I think I'm young enough (to have made the shift). Some of my colleagues tell me that it will be very difficult when I hit 50, so I better catch the opportunity with the little bit of window I have left."
Chew, who is targeting annual double digit growth from 2015 to 2019, took over the helm at Paramount on July 1 after the company was without a CEO since its former CEO Chan Say Yeong suddenly resigned in mid-April 2013 without giving any reason.
The company reported a net profit of RM10.1mil for its fourth quarter ended Dec 31, 2014, down 29.7% from RM14.4mil a year earlier, which it attributed to lower contributions from its property and education divisions.
Revenue rose 16.4% to RM157.7mil from RM135.4mil. Paramount's full-year net profit and revenue amounted to RM62.5mil (up 16.8% from RM53.5mil) and RM510mil (down 0.4% from RM512.1mil) respectively.
Chew says one of his immediate priorities after coming onboard was to increase enrolment figures for its tertiary education programmes, which had dropped to 3,622 in 2013 from 4,737 in 2012.
Following his strategy to rebuild Paramount's sales and marketing capabilities, he notes that final enrolment figures for 2014 had come in at a healthier total of 4,834 students.
"We are pushing for a very aggressive growth rate and are looking at a growth of 20% or more for 2015. We are targeting an increase of 1,000 students," he says.
He also notes that his entry into Paramount came at a time when the property market had slowed and sales were not as robust as those seen in 2012 and 2013, necessitating the need for a stronger sales force as well.
As a strategic move, he says that the company has shifted into performance-driven compensation, including its Long Term Incentive Plan (LTIP) and using key performance indicators to promote excellence from top management downwards.
"The calculation of performance shares will not be just at company level but also goes down to division performance. It doesn't mean that everybody will get rewarded if the group does well; it will also have to be your own division delivering the numbers promised to the board," he says.