By Tan Ai Leng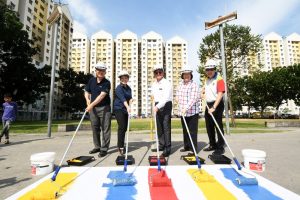 (from left) Beh, Au, Mohammad Mentek, Housing and Local Government Ministry (KPKT) deputy secretary-general (Policy) Datuk Dr Mary Wong and General Manager, Paint Marketing Company, Nippon Paint Malaysia Tay Sze Tuck at the ground breaking ceremony for the EdgeProp.my – Paramount Property Sayangi Rumahku campaign. (Photos by Low Yen Yeing/EdgeProp.my)
PETALING JAYA (July 19):  Residents of public housing schemes in PPR Lembah Subang 1, PPR Seri Cempaka and Perumahan Awam Seri Kedah in the Klang Valley will soon see the sports courts in their communities undergo a makeover under a private initiative under the EdgeProp.my – Paramount Property Sayangi Rumahku Campaign.
The campaign will be undertaken jointly by EdgeProp Malaysia, Paramount Property Development Sdn Bhd and Nippon Paint Malaysia, and will benefit close to 16,000 residents living in the 4,116 homes in these PPRs.
A ground-breaking ceremony officiated by Housing and Local Government Ministry (KPKT) Secretary-General Datuk Sri Mohammad Mentek at PPR Lembah Subang 1 today marked the start of the campaign and the refurbishment works which are expected to be completed this year.
The Sayangi Rumahku campaign is in line with the National Community Policy (Dasar Komuniti Negara or DKN), which was launched by Prime Minister Tun Dr Mahathir Mohamad in February this year. It aims to empower the lives and improve the living environment of the B40 group.
Formulated by KPKT, DKN is a feature of the National Housing Policy or Dasar Perumahan Negara 2018-2025.
In his speech, Mohammad said the sports courts of these three PPRs will be transformed and have colourful and vibrant new looks while maintaining their existing functionality.
"One of DKN's objectives is to nurture a sense of belonging to their community by improving the common facilities and the common space safety, hence, encouraging residents to come out from their homes and have more community activities.
"While encouraging PPR residents to be more united and care about their community, KPKT also hopes such community-initiated activities could help nurture community leaders and volunteers from among them who will go on to continue improving their living environment," said Mohammad.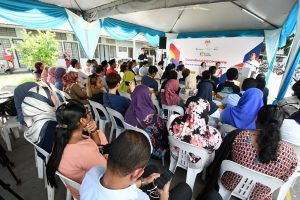 Some of the PPR residents who took apart in the ground-breaking ceremony for the the EdgeProp.my – Paramount Property Sayangi Rumahku Campaign.
Besides the sports court refurbishments, KPKT also plans to collaborate with the Ministry of Youth and Sports (KBS) to run a programme to train PPR residents who are keen to become sports coaches for badminton and futsal for example, to train the younger ones in the community.
"Through such efforts, we can indirectly cultivate a healthy lifestyle while fostering the spirit of unity and togetherness through sports among the PPR residents regardless of their age, race and religion," said Mohammad.
The ministry is also mulling an Inter-PPR Sports Carnival which aims to integrate community relationships between one PPR and another PPR via sports activities.
"In other words, when we live together, we can continue to live, play and solve problems together in harmony.
"I also hope that this sports court can be utilised as best as possible, so that is not neglected to be a white elephant or be damaged by irresponsible parties," he added.
Meanwhile, EdgeProp.my managing director and editor-in-chief Au Foong Yee said DKN's objectives and the plans involving government, the private sector and community are well thought out and truly a life-changing policy for the B40 group.
"EdgeProp.my has been working hard to rope in real estate industry players to support DKN. Despite the current trying times, we are pleased to receive good support. We hope more companies could join us in this very meaningful journey," Au added.
Meanwhile, Paramount Property Development Sdn Bhd CEO Beh Chun Chong said the company is honoured to be part of this initiative to raise the standards of living in the PPR community.
"Specifically, we will be involved in the upgrading of sporting facilities to encourage a healthier and more active lifestyle amongst the residents, especially the youth.  This is in line with Paramount's vision of 'changing lives and enriching communities for a better world'," he noted.
As published: https://www.edgeprop.my/content/1564124/close-16000-ppr-residents-benefit-sayangi-rumahku-campaign