By Natalie Khoo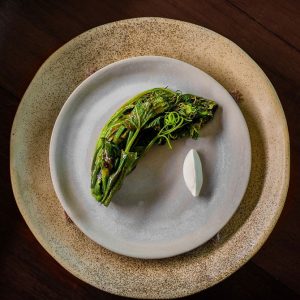 Dewakan is the only Malaysian restaurant to earn a coveted spot on Asia's 50 Best Restaurants 2022—here's the full list
Following the announcement of the extended 51-100 List, the 10th edition of Asia's 50 Best Restaurants was finally unveiled today, with KL's Dewakan earning the highly coveted crown of the Best Restaurant in Malaysia.
This marks the second time that the esteemed modern Malaysian restaurant has received the award since 2019, cementing its re-entry on the list at No. 50 after ranking at No. 66 on the inaugural 51-100 list last year.
Helmed by Chef Darren Teoh, Dewakan has developed a firm reputation both locally and regionally as one of the pioneers of modern Malaysian gastronomy with a penchant for highlighting underrated local produce in novel ways. The fine dining restaurant just celebrated its seventh anniversary earlier this month at its swanky home in Naza Tower, Platinum Park.
In a celebratory post on Instagram, the restaurant took the opportunity to give a shoutout to other local establishments, naming Entier, Hide, Beta KL, and A Little Farm on the Hill, among others.
The awards also saw Netflix star and Buddhist nun Jeong Kwan recognised for the Icon Award 2022; Hong Kong's David Lai from Neighbourhood earning the Chefs' Choice Award; Natsuko Shoji of Été, Tokyo named as Asia's Best Female Chef; and Kuala Lumpur's Eat and Cook taking home the American Express One To Watch Award.
Meanwhile, The Art of Hospitality Award went to Odette in Singapore, whilst Maira Yeo from Cloudstreet won Asia's Best Pastry Chef. Last but not least, Taiwan's Mume earned this year's Sustainable Restaurant Award.
Without further ado, scroll on for the full list of Asia's 50 Best Restaurants 2022.
Asia's 50 Best Restaurants 2022
1. Den, Tokyo, Japan (Best Restaurant in Japan)
2. Sorn, Bangkok, Thailand (Best in Thailand)
3. Florilége, Tokyo, Japan
4. Le Du, Bangkok, Thailand
5. The Chairman, Hong Kong (Best in China)
6. La Cime, Osaka, Japan
7. Sühring, Bangkok, Thailand
8. Odette, Singapore (Art of Hospitality Award and Best Restaurant in Singapore)
9. Neighbourhood, Hong Kong
10. Nusara, Bangkok, Thailand
11. Sazenka, Tokyo, Japan
12. Fu He Hui, Shanghai, China
13. Ode, Tokyo, Japan (Highest Climber Award)
14. Villa Aida, Wakayama, Japan* (Highest New Entry)
15. Narisawa, Tokyo, Japan
16. Mingles, Seoul, South Korea (Best Restaurant in Korea)
17. Sézanne, Tokyo, Japan
18. Joo Ok, Seoul, South Korea
19. Ensue, Shenzhen, China
20. Meta, Singapore
21. Masque, Mumbai, India (Best Restaurant in India)
22. Indian Accent, New Delhi, India
23. Les Amis, Singapore
24. Caprice, Hong Kong
25. Blue by Alain Ducasse, Bangkok, Thailand*
26. 7th Door, Seoul, South Korea
27. Mosu, Seoul, South Korea
28. Da Vittorio, Shanghai, China*
29. Sushi Masato, Bangkok, Thailand
30. Onjium, Seoul, South Korea
31. Samrub Samrub Thai, Bangkok, Thailand*
32. Mono, Hong Kong
33. Gaa, Bangkok, Thailand
34. Wing, Hong Kong*
35. Ministry of Crab, Colombo, Sri Lanka (Best Restaurant in Sri Lanka)
36. La Maison de la Nature Goh, Fukuoka, Japan
37. Zén, Singapore
38. Logy, Taipei, Taiwan
39. Ultraviolet by Paul Pairet, Shanghai, China
40. Labyrinth, Singapore
41. Burnt Ends, Singapore
42. Été, Tokyo, Japan
43. Cenci, Kyoto, Japan
44. Cloudstreet, Singapore
45. JL Studio, Taichung, Taiwan
46. Raan Jay Fai, Bangkok, Thailand
47. Wing Lei Palace, Macau, China
48. 8 1/2 Otto e Mezzo Bombana, Hong Kong
49. Megu, New Delhi, India
50. Dewakan, Kuala Lumpur, Malaysia (The Best Restaurant in Malaysia)
*represents new entries