KUALA LUMPUR:
Bursa Malaysia Bhd

has announced 10 new additions to the constituents of the FTSE4Good Bursa Malaysia (F4GBM) Index and nine new additions to the constituents of the FTSE4Good Bursa Malaysia Shariah (F4GBMS) Index.
"For the latest review period of June 2022, there are 10 new additions and two deletions from the F4GBM Index constituents, bringing the total number of constituents to 87, continuing the index's year-on-year increase since its inception in 2014," Bursa Malaysia said in a statement.
"Separately, the nine new additions to the F4GBMS Index will increase the index's constituent count to 65. All constituent changes will take effect at the start of business on June 20," it added.
The F4GBM inclusions are namely,
Dialog Group Bhd

,
George Kent (M) Bhd

,
Greatech Technology Bhd

,
Innature Bhd

,
Malaysian Pacific Industries

Bhd, Paramount Corp Bhd,
Press Metal

Aluminium Holdings Bhd,
Scicom (MSC) Bhd

,
Scientex Bhd

and S P Setia.
Meanwhile, the exclusions for F4GBM were
Magnum Bhd

and
MNRB Holdings Bhd

.
The F4GBM index, which was launched in December 2014 with 24 constituents, measures the performance of public listed companies (PLCs) that demonstrate strong environmental, social and governance (ESG) practices.
The F4GBMS Index which was launched in July 2021 with 54 constituents, is designed to track F4GBM constituents that are Shariah-compliant in accordance with the Shariah Advisory Council (SAC) screening methodology.
Both indices are reviewed semi-annually in June and December against international benchmarks.
The following are the changes to the F4GBM Index and F4GBMS Index for June 2022 semi-annual review: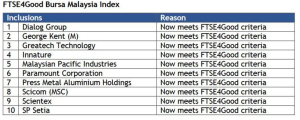 As published:
The Star