By Abirami Durai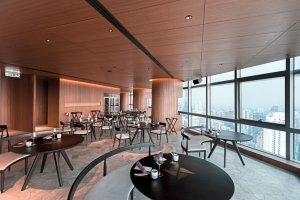 Dewakan is ranked the best restaurant in Malaysia, the only Malaysian restaurant to feature on Asia's 50 Best Restaurants 2022 list. — Dewakan
Last year was marked by constant upheavals, one felt intensely by local restaurants, which withstood a constant merry-go-round of dine-in/no dine-ins, from which the industry is still recovering.
But finally, there is reason for some celebration. Kuala Lumpur's own homegrown eatery Dewakan was named the Best Restaurant in Malaysia at the Asia's 50 Best Restaurants awards 2022, coming in at No 50.
The awards, which is in its 10th installation, celebrates the best restaurants (of the fine-dining variety) in Asia.
This marks Dewakan's second time on the list, having ranked No 46 in 2019 and No 66 in last year's extended list. To date, Dewakan is also still the onlyMalaysian restaurant to have broken into the list.
"This year's inclusion into the list means something really different to us. We are reminded to celebrate every accomplishment. Big and small.
"So thank you to the best team ever, the best guests ever and to the best friends ever," posted the eatery on Instagram after its momentous win.
The restaurant is helmed by maverick chef Darren Teoh, who initiated the fine-dining haunt seven years ago on the grounds of the KDU University College (now UOW Malaysia KDU) in Glenmarie, Shah Alam. In 2019, Dewakan moved to more salubrious surrounds at Skyviews Naza Tower and now boasts stunning views of the Petronas Twin Towers.
Since its inception, the maverick Teoh has led a movement aimed at embracing and appreciating local, indigenous ingredients and his menus reflect this patriotism, with produce like kulim (forest garlic), perah (a kind of nut), buah keluak (often called the truffle of the East) and local goat elevated and reconfigured in novel ways.
It is no small coincidence that his approach to Malaysian food – often billed modern Malaysian cuisine – has inspired and influenced a brigade of young chefs equally eager to celebrate and champion this spirit of locavorism.
As published: The Star