By Lee Khang Yi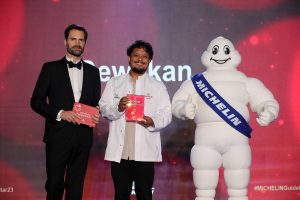 Dewakan is awarded one Michelin Star by Gwendal Poullennec at the Michelin KL & Penang Stars Revelation presentation in Berjaya Time Square KL Hotel December 13, 2022. — Picture by Choo Choy May
KUALA LUMPUR, Dec 13 — In the inaugural Michelin Guide Kuala Lumpur and Penang 2023, only four restaurants in Kuala Lumpur and Penang were bestowed with the prestigious one Michelin star distinction.
In Kuala Lumpur — Dewakan and DC Restaurant by Darren Chin — were given one Michelin star.
Meanwhile, over in Penang, Restaurant Au Jardin and Auntie Gaik Lean's Old School Eatery picked up one Michelin star each.
The one Michelin star distinction represents high quality cooking worth a stop. The establishment is said to use quality ingredients and serve carefully prepared dishes with distinct flavours.
Dewakan champions Malaysia's ingredients through clever creations dreamt up by chef Darren Teoh. Located at Sky Views, Naza Tower, the seven-year-old restaurant was also selected as Best Restaurant in Malaysia at Asia's 50 Best Restaurants 2022.
Over at Taman Tun Dr Ismail, DC Restaurant by Darren Chin was also lauded with one Michelin star. The restaurant serves classic French cuisine with Japanese influences under the watchful eye of Le Cordon Bleu trained Chin. He also owns Bref and Gai, also located at Taman Tun Dr Ismail.
Helmed by Kim Hock Su, Restaurant Au Jardin in Penang serves modern European cuisine with local touches in an intimate 18-seater restaurant located in a converted warehouse at Hin Bus Depot.
In Penang, Auntie Gaik Lean's Old School Eatery is popular for its Nyonya cuisine. When picking up their award, the owner thanked her mentor Datuk Lim Bian Yam and said, "Life is great at 69".
The selection criterion for the Michelin Guide is a global standard where anonymous Michelin employed inspectors review the establishments based on the same five criteria used worldwide. This includes the quality of the ingredients, mastery of cooking techniques, the harmony of the flavours, expression of the chef's personality in the cuisine and consistency, both over time and across the entire menu.
Location, decor, service and available facilities are not part of the selection criteria.
During the Michelin Guide inspection, they also kept an eye out for service professionals that are given the Michelin Special Awards.
This includes the Service Award to Leanne Lim from Dewakan while the Sommelier Award was awarded to Mahammad Hafiz bin Abdullah from DC Restaurant
Honouring the upcoming talents, they have also given the Young Chef Award to Lim Yan You from Restaurant Au Jardin. The 35-year-old started 10 years ago in the kitchen.
In addition, the Michelin Guide has revealed a list of 61 Selected Restaurants. For the Selected Restaurants, this fairly new recognition replaced the previously Michelin Plate distinction.
For those who are selected, this means the establishments have met criteria set by the Michelin inspectors, but they don't qualify for the Bib Gourmand or a Michelin star. In the future, these Selected Restaurants can be upgraded to a Bib Gourmand or Michelin star.
Michelin Selected Restaurants — Kuala Lumpur
Akar Dining
Anjo
Beta
Bref by Darren Chin
Cava
Cilantro
Dominic
Eat and Cook
Elegant Inn
Ember
Flour
Gai
Hide
Kayra
La Suisse
Li Yen
Limapulo
Marble 8
Nadodi
Open House
Passage Thru India
Playte
Qureshi
Skillet at 163
Soleil
Sri Nirwana Maju
Sushi Kazu
Sushi Ori
Sushi Taka
Tamarind Hill
The Brasserie
Ushi
Vantador
Yun House
Michelin Selected Restaurants — Penang
Air Itam Sister Curry Mee
Ali Nasi Lemak Daun Pisang
Bali Hai Seafood Market
Bao Teck Tea House
Bee See Heong
Bibik's Kitchen
Bite N Eat Dindigul Biryani
BM Yam Rice
Chao Xuan
Curios-City
Fatty Loh Chicken Rice
Ferringgi Grill
Flower Milan
Gen
Goh Thew Chik Hainan Chicken Rice
Il Bacaro
Jawi House
Kebaya Dining Room
Kota Dine & Coffee
La Vie
Lao Sang Tong Bak Kut Teh
Misai Mee Jawa (Butterworth)
Pitt Street Koay Teow Soup
The Pinn
Tok Tok Mee Bamboo Noodle
WhatSaeb Boat Noodles
Woodlands
As published: Malay Mail