By Justin Lim En bloc sale for one project is worth some RM400m GDV — CEO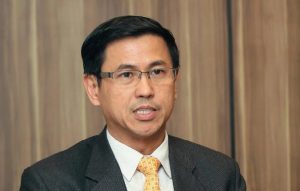 Chew says as at end-June, the group had record-high unbilled sales of about RM978 million.
KUALA LUMPUR: Paramount Corp Bhd is keeping its new property sales target at RM1 billion this year, despite first-half sales of only RM310 million, about half the RM600 million it secured in the same period last year.
"I am still holding the property team to the RM1 billion [sales target] because they are negotiating with buyers on an en bloc [sale for one project], worth some RM400 million of GDV (gross development value). I am expecting to sell some portion of that," said group chief executive officer (CEO) Jeffrey Chew, who declined to name the project.
"If they managed to sell one or two blocks, we will still get to the RM1 billion sales. But, if we fail, then maybe [we will] lower the target.
"I may be [better] able to answer this by September. If they are able to get the deal today, [then in] at least one or two months they still can get the SPA (sale and purchase agreement) done. If they can't close the deal, we will probably look at RM800 million," Chew told reporters after a fund managers and analysts' briefing on Paramount's financials yesterday.
Chew also shared that as at end-June, the group had unbilled sales of about RM978 million — a record high — and that the group is looking to hit RM1 billion in unbilled sales this year, which will be a key milestone for Paramount and provide earnings visibility for the group in the next three years.
This will be driven by more aggressive property launches for the second half of this year, for which it has lined up some RM900 million worth of launches, which should help the group hit the RM1 billion unbilled sales mark.
Meanwhile, Chew said the group is targeting to double its co-working space to 200,000 sq ft in the coming 18 months.
The group will have five co-working space centres with a combined space of 100,000 sq ft by the end of this year. Four of them are existing co-working spaces — two within Shah Alam's Glenmarie and Sekitar 26 enclaves, and one each in The Starling Mall, Petaling Jaya, and Naza Tower in Kuala Lumpur. The Starling Mall will see one more co-working space centre opening by year end.
For the next two years, the group is planning to open between three and four co-working spaces each year by allocating a capital spending of between RM3 million and RM4 million for each co-working space, based on an average size of 20,000 to 25,000 sq ft per unit, and a capital expenditure of about RM150 per sq ft.
"We hope that this business (co-working) can get RM20 million to RM30 million in terms of revenue for the next three to five years. We have secured a turnover of RM1.3 million for the first half of this year. For the full year, the number will double to RM3 million to RM4 million as we have more locations.
"Next year, we are looking to further grow the number to RM12 million to RM15 million," Chew added.
As published: https://www.theedgemarkets.com/article/paramount-banks-big-deal-hit-rm1b-property-sales-target