2014 MYT 1:07:00 PM
Updated: Tuesday March 25, 2014 MYT 2:54:40 PM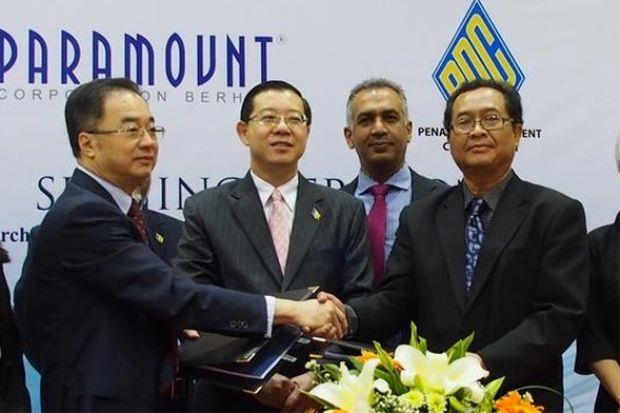 From left: Paramount Corp group CEO Datuk Teo Chiang Quan shakes hands with Penang Development Corp GM Datuk Rosli bin Jaafar, as Penang Chief Minister Lim Guan Eng and deputy GM of PDC Iskandar Basha bin Abdul Kadir look on.
GEORGETOWN: Property developer Paramount Corporation Bhd is acquiring 30 acres of land in Bandar Cassia, Batu Kawan, from the Penang Development Corporation (PDC) for RM65.55mil to build a "university metropolis" and an integrated development.
The agreement signed between PDC and Paramount Corp on Tuesday specifies that the latter's property arm, Paramount Property, will build Penang's first university metropolis within five years of the agreement.
It is to be anchored by the campus of KDU Penang, also owned by Paramount Corp.
The integrated development meanwhile is to be completed within 10 years.
Paramount Corp said it believed the new university metropolis in Batu Kawan would become the new property magnet to meet the needs of Penang's growing and maturing population, as it was the third satellite town in Penang after Bayan Lepas and Seberang Jaya, and was the state's main industrial site on the mainland.
Paramount Corp executive deputy chairman Datuk Teo Chiang Quan said it was an important acquisition for the group.
"We have been able to bring, for the first time, the synergies of our two businesses – Paramount Property and the KDU Education Group – to one location in the northern region of Peninsular Malaysia, where we have had a strong presence for over 30 years. And it is very much in line with our corporate strategy, which is about strength through synergy."
"The creation of a new campus for KDU Penang, and its elevation from college to university college also brings to life our brand ethos of always contributing towards the development of human capital," he said.
Paramount Corp acquired the land from PDC at RM65,557,800, with the institutional land transacted at RM40.50/sq ft, while the land for development transacted at RM55/sq ft, both with freehold titles.