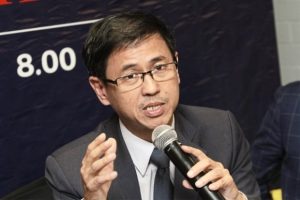 By 
Eugene Mahalingam
KUALA LUMPUR: Paramount Corp Bhd, which has received shareholder approval to dispose of 65% of its tertiary education ops, is looking to expand its property business within the region.
Group chief executive officer Jeffrey Chew (pic) said the group is targeting its first foreign project within the next five years.
"Because we're already at a good size, we're looking beyond Malaysia," he told reporters after the company EGM yesterday.
"We're looking at South-East Asia. We won't rush, but we want to diversify. We're evaluating the markets to determine whether they offer growth opportunities or pose a challenge to us. We're also looking at the right potential partner."
The company's property projects are currently focused within the Klang Valley and the northern region. The group's current land bank is worth RM8.5bil in gross development value.
"It should last us another eight years, so eventually we need to start replenishing. We may do this either via direct acquisition or a joint venture."
Chew said "several parties" had already approached Paramount Corp for potential collaborations.
"Our sales jumped to RM1bil last year from RM300mil in 2014. Because of that, a lot of players have approached us, expressing interests for a potential tie-up."
In light of the current property market slowdown, Chew said Paramount Corp is maintaining its sales target of RM1bil for this year."Year-to-date, we're actually a bit behind on our target. However, we deferred a number of launches in the first half of this year due to the property market slowdown.
"But we're doing a lot more in the second half of 2019 and will be launching RM800mil worth of projects for the remainder of this year."
With the various home-ownership initiatives currently being undertaken by the government, Chew is optimistic that the property market will improve.
Paramount Corp is selling its K-12 education business for more than half a billion ringgit but will still maintain a minority stake in the three entities it is divesting. K-12 education is for children from kindergarten through the 12th grade. The move will give the company flexibility to further grow its property segment.
Chew said he expected revenue contribution from its property segment to increase to 85% in the next five years from around 70% currently.
Paramount Corp will receive a cash consideration of RM540.5mil for the sale of its controlling interest in three wholly owned subsidiaries – Paramount Education Sdn Bhd, Paramount Education (Klang) Sdn Bhd and Sri KDU Sdn Bhd – to Two Horses Capital Sdn Bhd.
It plans to use 32.7% of the proceeds or RM177mil – the largest portion of its intended utilisation – as a special cash dividend for its shareholders within six months of completion of the disposal.
The group also plans to use RM150mil to replenish its land bank and RM133.66mil to repay its borrowings.
There are also options for Paramount Corp to exit the target companies in the financial year 2021, or if Two Horses exercised its rights to buy the remaining equity interests.
Following the completion of the proposed disposal, Paramount Corp will only hold 30.3% in Paramount Education and 20% each in Paramount Education (Klang) and Sri KDU.
It will also hold an effective equity interest of 20% in REAL Education Group Sdn Bhd, of which Paramount Education holds 66%. The remaining 34% is held by Character First Sdn Bhd, all of which will be disposed of entirely to Two Horses.
As published: https://www.thestar.com.my/business/business-news/2019/07/11/paramount-corp-eyes-regional-expansion/#DAM2W6ZhyIgdHw6T.99