Petaling Jaya, 25 February 2022: Despite the strong headwinds brought about by the prolonged pandemic, Paramount Corporation Berhad ('Paramount' or 'the Group') ended FY2021 with a revenue of RM681.4 million, which was 15% higher than RM593.6 million in the last financial year, supported by the strong performance of its property division in the fourth quarter. The Group also saw a 37% jump in Profit Before Tax (PBT) from its continuing operations of RM70.3 million compared to RM51.5 million in FY2020.
However, the Group's profit attributable to ordinary equity holders of the company was lower at RM28.5 million (FY2020: RM486.4 million) mainly due to a gain of RM462.7 million recognised from the pre-tertiary education business divestment in FY2020 which is no longer consolidated in this year's financial results.
A single tier final dividend of 3 sen per share has been proposed, subject to shareholders' approval in the upcoming annual general meeting.
Property division
The property division's revenue was affected by various degrees of disruptions such as the closure of construction sites and sales galleries, particularly in 3Q2021. Nevertheless, the impact of these has been moderated by the contribution from the commercial land sale at Sekitar26 in Selangor, resumption of operations at 100% workforce capacity and reopening of sales galleries in the last quarter of the year.
Paramount Group CEO Jeffrey Chew said, "The property division's strong fourth quarter performance was a key contributor to Paramount's resilient performance for FY2021 as seen from its revenue of RM314.2 million, which was 69% higher compared to the corresponding quarter last year. Additionally, the division's PBT of RM35.8 million in 4Q2021 was also 58% higher than in 2020."
All in all, the property division achieved a revenue of RM672.1 million (FY2020: RM584.4 million) for FY2021, which was 15% higher than the last financial year while its PBT was 28% higher at RM78.6 million (FY2020: RM62.7 million). The top contributors to revenue were Bukit Banyan in Kedah, Utropolis Batu Kawan in Penang, and ATWATER in Selangor.
Additionally, the property division's sales in FY2021 had risen by 5% to RM806 million against RM770 million achieved in FY2020, while unbilled sales crossed the billion ringgit threshold for the second year at RM1.1 billion (as at 31 December 2021).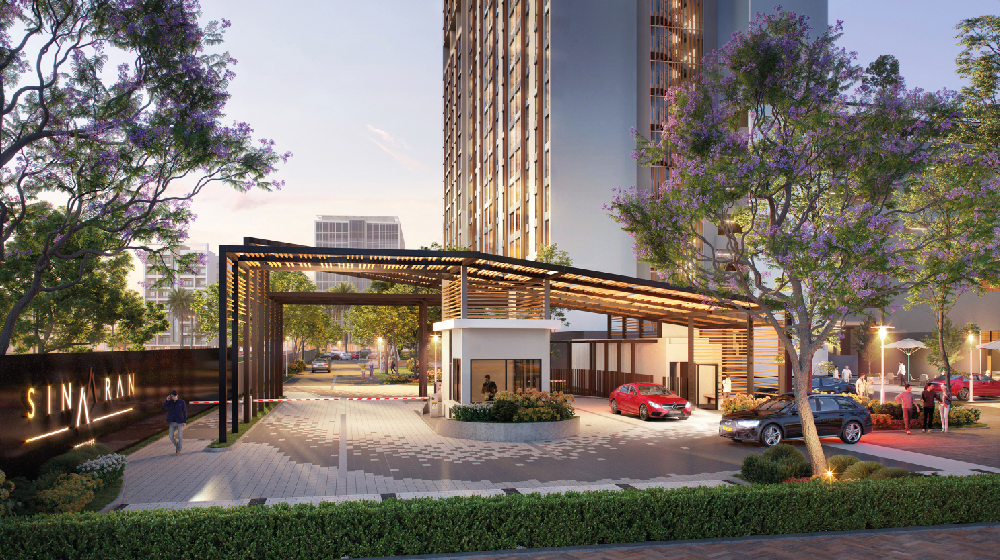 Artist impression of Sinaran at Utropolis Batu Kawan, one of Paramount's launches in FY2021
Coworking division
For FY2021, the coworking division recorded a revenue of RM5.8 million, which was 29% higher than last financial year of RM4.5 million. This was mainly attributed to new revenue from the Tropicana Gardens outlet which opened in January 2021, coupled with the maiden contribution from Scalable Malaysia, a one-stop workspace solutions provider.
Despite the higher revenue, however, the coworking division incurred a higher loss before taxation (LBT) of RM8.6 million for FY2021 (FY2020: LBT of RM4.7 million). This was mainly due to an impairment loss of RM4.6 million in respect to Co-labs Coworking Naza Tower, Platinum Park.
Prospects
"Moving forward, the reopening of the economy and the gradual easing of the country into accepting COVID-19 as endemic is expected to restore consumer confidence and aid the recovery of the property market in 2022. In addition, the low interest rate environment, and the abolishment of the real property gains tax for disposals is expected to help invigorate the property market," said Chew.
However, Chew said uncertainties arising from possible new variants of the COVID-19 virus, potential interest rate hikes, escalating prices of building materials and the shortage of construction workers could dampen recovery.
"In the meantime, we look forward to launching six projects in 2022 (including new phases of existing projects) with an estimated gross development value of RM1.3 billion.
"Among the projects we have lined up are Arinna, a low-density smart home project at Kemuning Utama in Shah Alam, Selangor, and a transit-oriented development project situated next to the Asia Jaya Light Rail Transit Station in Petaling Jaya, both of which will be launched after securing all the necessary authority approvals," he said.