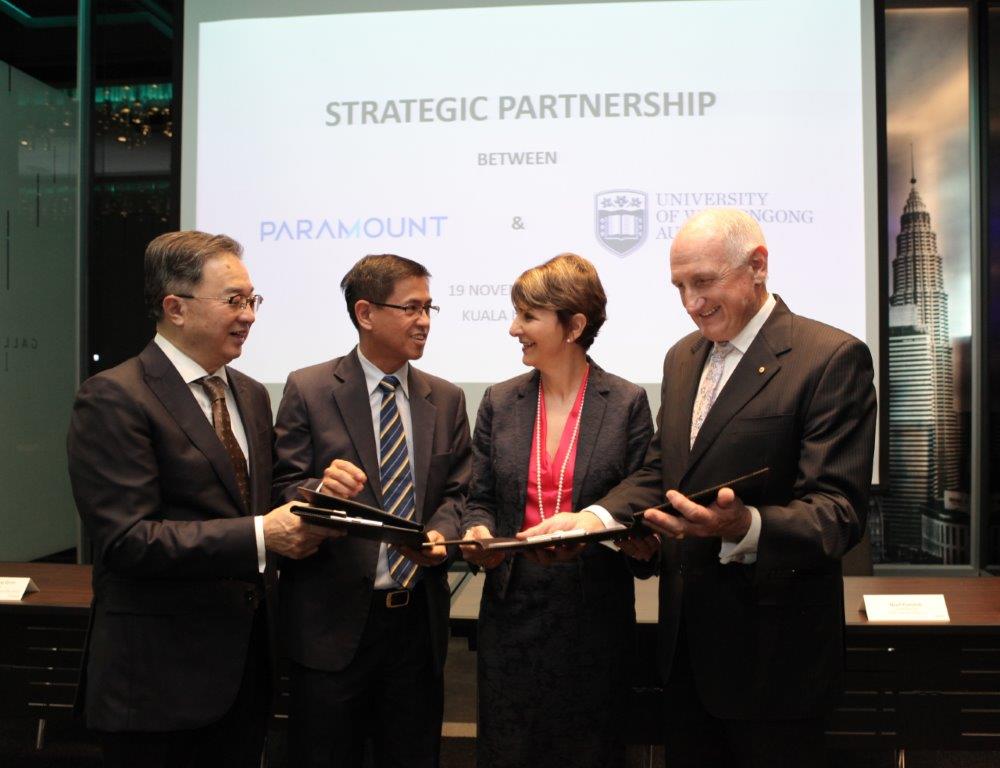 KUALA LUMPUR, 19 November 2018: Paramount Corporation Berhad (Paramount) has entered into a strategic partnership with Australian public university, University of Wollongong (UOW), to enhance its tertiary education business.
The partnership involves UOW wholly-owned subsidiary, UOW Global Enterprises, taking up a 65% stake in the business and operations of KDU University College and KDU Penang University College, and a 70% stake of that in KDU College, for RM38.5 million. UOW Global Enterprises had set up a Malaysian company, UOWM Sdn Bhd, to carry out the transaction. The partnership enables KDU to leverage on UOW's network as a global multi-campus university and its array of undergraduate and postgraduate programmes.
Through an asset securitisation proposal announced on 25 October 2018, KDU University College and KDU Penang University College would dispose of their university campus properties worth RM420 million prior to the entry of UOW, and subsequently lease back these properties.
Paramount Group CEO Jeffrey Chew and UOW Global Enterprises Group CEO Marisa Mastrioanni signed the share purchase agreement on behalf of their organisations in Kuala Lumpur this morning. The signing was witnessed by Paramount Chairman Dato' Teo Chiang Quan and UOW Global Enterprise board member Noel Cornish.
UOW, an Australian public university in New South Wales, is considered one of the best modern universities in the world. It is among the top 250 ranked universities worldwide, and 16th in the world in the QS Top 50 Under 50 Rankings 2019 (a ranking for universities under 50 years old).
Aside from its campus in Wollongong (about 80km south of Sydney), UOW, through UOW Global Enterprises, owns University of Wollongong in Dubai, UOW College Australia, and UOW College Hong Kong. UOW has more than 34,000 students of 179 nationalities, of whom some 13,500 are studying outside of Australia. It has an alumni base of more than 149,000.
UOW's network of campuses is expected to provide KDU students and staff with more growth opportunities. UOW emphasises on student mobility through its established connections. Its students have access to Study Abroad and Student Exchange partnerships with 180 universities in 44 countries.
KDU, with 35 years of experience and brand credibility in tertiary education, offers UOW a strong foothold into the Malaysian education market. KDU has about 6,000 students, including international students, at three campuses with a fourth being built at Batu Kawan, Penang. Its campuses are KDU University College at Utropolis Glenmarie, KDU Penang University College, and KDU College, in Damansara Jaya.
Chew said, "The strategic partnership is a catalyst to elevate KDU quickly in an increasingly competitive market. It would help differentiate KDU from other higher education institutions in the market."
"UOW brings higher education expertise from Australia, Hong Kong and Dubai, while Paramount's experience and presence in Malaysia, combined with our strong management skills and brand credibility, would be a powerful combination. We envisage both to contribute and benefit from the growth in business.
"The entry of UOW in this strong way would also mean access to research findings, network of business mentors, industry leaders, and industry innovation by Malaysian SMEs, both in the central region and in the northern region where KDU would open its Batu Kawan campus soon.
"Australia is traditionally popular among Malaysians for its tertiary education. The entry of a highly respected Australian public university into KDU is positive for Malaysians.
"Malaysia targets 200,000 foreign students by 2020. In January 2018, the Higher Education Director General reported that 177,000 foreign students had accepted offers to pursue higher education at 10 campuses in Malaysia.
"We also expect the entrance of UOW to strengthen Penang as an edu-tourism destination, because less than one percent of the 105,000 foreign students in private higher education institutions in Malaysia (in 2017) are in Penang.
Chew said both Paramount and UOW are committed to the best interests of the students and staff, and would work together to ensure the smooth entry of UOW into KDU, and to enhance:
international student growth and student mobility
integrated learning and student employability
student entrepreneurship via supported start-up enterprise programmes
positive employee relations and continuing staff development.
UOW Vice-Chancellor, Professor Paul Wellings CBE, said the strategic partnership builds on the university's success in providing world-class tertiary education to students in Malaysia by enabling UOW to become a direct provider in this vibrant market.
"Through this partnership UOW will contribute more significantly to realising the Malaysian Ministry of Education's vision of creating a higher education system that ranks among world leaders and enables Malaysia to compete more effectively in the global economy.
"UOW's direct presence in the market will strengthen Malaysia's efforts at this exciting time in the nation's history while also benefiting the wider region."
Mastroianni echoed Chew saying, "UOW's programmes and global network of campuses will offer international mobility opportunities that support strong graduate outcomes."
She also said both KDU and UOW share the same spirit of innovation and on producing career-ready graduates to meet real world needs. KDU would also enable its existing students to achieve timely, uninterrupted completion of their studies under existing programmes.