By Mohd Zaky Zainuddin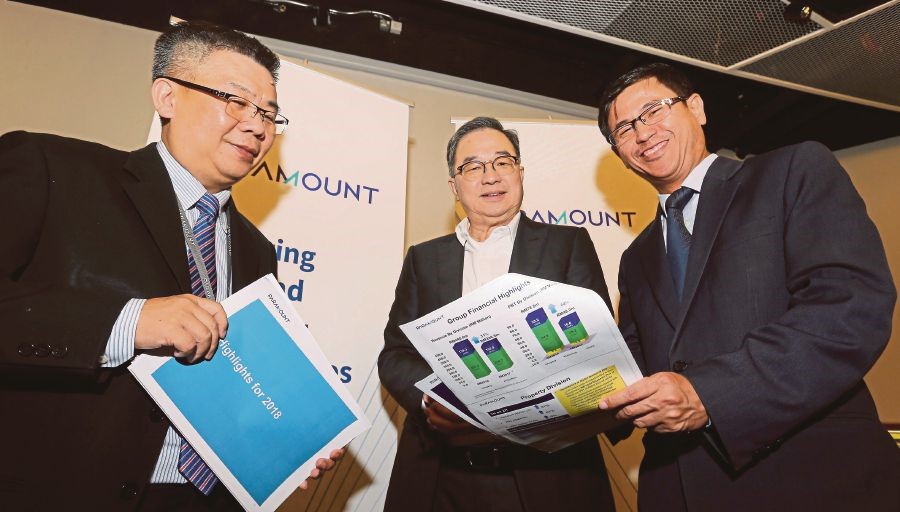 Group chief executive officer and executive director Jeffrey Chew Sun Teong (right) says the reduction was due to cost of construction materials to slide down by one to two percent with the SSTs coming to force. (NSTP pic by OWEE AH CHUN
PETALING JAYA: Property developer Paramount Corporation Bhd expect prices of its properties to be reduced between two and three per cent following the implementation of sales and service tax (SST) next month.
Group chief executive officer and executive director Jeffrey Chew Sun Teong said the reduction was due to cost of construction materials to slide down by one to two percent with the SSTs coming to force.
"Each project involves construction cost of about 50 percent, while the rest is land acquisition, consultation and other input costs.
"Of these, only 15 percent of construction cost was tax exempted, which reflects the overall construction cost reduction of up to two per cent. "With this cost reduction, we can reduce real estate prices, but only up to three per cent," he told reporters after Paramount's six months 2018 financial performance and second half outlook briefing here today.
Chew said the reduction in residential prices is also closely related to the type of project and location, as this will relate to whether Paramount will absorb SST costs or pass it to buyers.
"We will see the need to either absorb the SST costs or the buyers have to bear the tax. It depends on the type of project and location. On average, the SST's implementation will see overall real estate prices down by three per cent," he said.
On prospects for the second half of the year, Chew said Paramount is on track to achieve RM1 billion annual sales target, driven by new property launched that has a total estimated gross development value (GDV) of RM1.2 billion for the rest of 2018.
"During the first half, Paramount has achieved RM598 million in sales with the launch of projects amounted to RM708 million in GDV. New launches in the second half include Suasana Tower 2 project, Keranji Phase II and the commercial development in Atwater will provide positive sales momentum to the company.
"Unbilled sales as at June 30, 2018 increased to RM866 million from RM736 million as at first quarter of this year and will provide positive contribution to the company," he said.
For the first six month period, Paramount has registered a revenue of RM440.6 million, of which 68 per cent or RM301.3 million contributed by property portfolio, while the remaining 32 per cent or RM139.3 million from education portfolio.
At the moment, Paramount total landbank stands at 41.3 ha involving RM7.57 billion worth of GDV and will keep the company busy until 2027.
Article from New Straits Times
https://www.nst.com.my/business/2018/08/404542/paramount-expects-properties-prices-drop-after-sst