by FARA AISYAH / pic by MUHD AMIN NAHARUL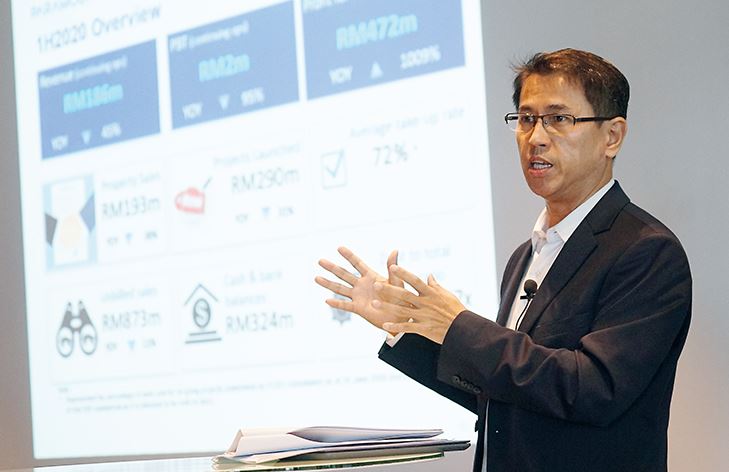 Boosting the group's land bank will lead to more launches and more sales for the company, group CEO says
PARAMOUNT Corp Bhd has budgeted up to RM300 million for land acquisitions within the next one year, with another RM500 million allocation to follow should interest-rates drop to zero.
Its group CEO Jeffrey Chew (picture) said the property developer's initial plan was to acquire land worth a total of RM500 million for the next five years.
"We are currently looking at a couple of pieces of land now. Based on the current environment, we will probably buy more land worth RM200 million to RM300 million in the next six months to a year.
"If land becomes very cheap and the interest-rate becomes very low, like 0%, we would buy another RM500 million worth of land," he said at a media briefing yesterday.
Malaysia's benchmark lending rate, the Overnight Policy Rate (OPR), is currently at a record low of 1.75% after four rate cuts so far this year.
Bank Negara Malaysia (BNM) has been slashing rates in a bid to prop up the economy amid the Covid-19 pandemic and may reduce the OPR again at its meeting on Sept 10.
Boosting the group's land a bank will lead to more launches and more sales for the company, Chew said.
He also added that RM500 million worth of land could translate to RM1 billion in sales for the company, and RM2 billion sales for RM1 billion worth of land, Chew added.
The developer mainly prefers locations it is familiar with, such as the Klang Valley and the northern region.
As at June 30, 2020, the group had 505.1 acres (204.4 ha) of undeveloped land in the Klang Valley, Kedah and Penang, it said in an exchange filing last month.
Last month, it acquired 4.54 acres of prime freehold land with buildings at Jalan Ampang Hilir, Kuala Lumpur, for RM243.8 million.
Paramount intends to redevelop the properties into a premium high-rise residential development consisting of about 650 units of condominiums.
Paramount slipped into the red in the second quarter ended June 30, 2020 (2Q20), with a RM3.7 million net loss compared to RM28.47 million net profit made last year, mainly due to the disruptions from the Covid-19 pandemic on its property division.
Quarterly revenue fell 70.4% to RM64.2 million from RM216.94 million in 2Q19. The developer achieved property sales of RM193 million in the first half of the year (1H20), which was 62% of the corresponding period last year.
In July, the firm recorded its second-highest bookings in five years. Unbilled sales of RM873 million as at June 30 provide some visibility of the group's cashflow in the near term, but the pace of conversion into billings would depend on the construction progress of its projects, Paramount said.
Its property launches slated for 2H20 are estimated to have a gross development value of RM640 million, more than double of the RM290 million worth of properties launched in 1H20.
Separately, Chew said the government's proposal to impose a vacancy tax on developers who fail to sell their properties is not a good move.
"There are other more effective methods. The property prices in most of the countries that have done it are not that cheap.
"When the supply dwindles, prices will go up and that is not good for the country," he said.
Housing and Local Government Minister Zuraida Kamaruddin said last month the tax could be implemented as early as next year, pending Cabinet approval.
The tax is being mooted as a means of reducing the country's massive residential housing overhang, which stood at 31,092 units worth RM18.77 billion as at 3Q19, according to data from the National Property Information Centre.
As published:
The Malaysian Reserve