By Gloria Harry Beatty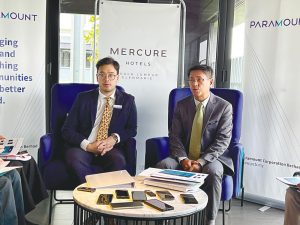 Paramount deputy group CEO Benjamin Teo (left) and Chew conducting the media briefing
SHAH ALAM:
Paramount Corp Bhd is aiming for an increase of 10% to RM1.2 billion in property sales this year compared with RM1.1 billion registered in 2022.
According to group CEO Jeffrey Chew Sun Teong, the group expects overall performance to improve compared with 2022, driven by its financial results in the first quarter (Q1'23) ended March 31, 2023.
"The first quarter performance, its already hitting the historical high for our revenue and also in terms of profit before tax, we did RM23.3 million, that's the highest since the Covid-19 pandemic. We should do better from the onset of the first quarter. Sales going to go up 10%, but for property developers, the sales will not be recognised immediately. Our revenue will grow accordingly as we perform (better) during 2023," he told reporters during a media briefing after its AGM today.
On consumer sentiment, he noted that there is a "weaker market sentiment" this year compared 2022, due to overnight policy rate hike and concern in the local economy. Additionally he opined that the demand has "reverted" to pre-pandemic levels.
He added that there is a lack of supply in terms of residential property, especially in urban areas across Selangor, various townships and particularly in Petaling Jaya.
"Based on our market study, what happened is the supply of property development in terms of completion of the property has gone down by around 50% in some locations," said Chew.
Citing a National Property Information Centre study, he said that the residential and serviced apartments registered 95,928 and 118,543 for completion and starts (incoming supply), respectively compared with 2015, when it peaked at 80,850 and 188,757, respectively.
Completion refers to when the building construction works are completed and certification is issued. Whereas, starts refer to when the construction of the building's foundation has begun.
Chew pointed out that consumers are aware that building properties is expensive. Hence, they are rushing to buy property which is "fuelling the demand".
"Despite the sentiment of the consumer confidence is not very strong, people are buying and we are able to garner sales because there's a lot of followers in our project and they're willing to actually continue buying from us because they're happy with the product," he said.
The group aims to launch RM1.5 billion worth of properties this year, with three new project locations making up 46% or RM700 million gross development value while four existing projects make up the balance of RM817 million.
"Our biggest launch so far was the Savana high-rise residential project in Batu Kawan, Penang. We launched it last March and as of May, we have a take-up rate of 26%," he added.
In Q1'23, the property developer's net profit increased RM11.58 million compared with RM5.02 million in the corresponding quarter in the year prior. Revenue increased 15.74% to RM194.56 million compared with RM168.10 million for the same quarter last year.
As published:
The Sun Daily