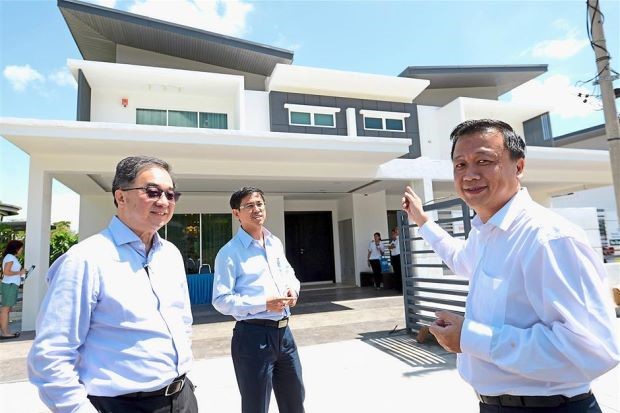 Sungai Petani project: (from left) Teo, Chew and Ooi showing the two-storey semi-D Eugenia 3 show house after the launch of Bukit Banyan township in Sungai Petani, Kedah yesterday. – MUSTAFA AHMAD/ The Star.
A total of 4,480 property units will be built over 10 years
SUNGAI PETANI: Paramount Property (Utara) Sdn Bhd plans to launch over the next eight to 10 years landed and high-rise properties with a gross development value of about RM700mil in the Bukit Banyan township in Sungai Petani.
Paramount Corp Bhd chief executive officer Jeffrey Chew Sun Teong said that annually there were would be RM70mil to RM90mil worth of projects launched for Bukit Banyan.
Paramount Property (Utara) is a wholly-owned subsidiary of Paramount Corp, a property-based company listed on the Main Market of Bursa Malaysia.
When fully completed, there will be 4,480 units of property in Bukit Banyan, of which 1,680 are in the affordable category.
"Under the affordable range, there are 1,000 low-cost apartments, 280 low-medium cost townhouses, and 400 medium-cost single-storey terraced houses.
"They are priced respectively at RM45,000, RM90,000, and RM200,000, which are prices set by the local authorities for the affordable range," he said after the launch of the 520-acre Bukit Banyan township by Kedah Menteri Besar Datuk Seri Ahmad Bashah Md Hanipah.
Also present were Paramount Group chairman Datuk Teo Chiang Quan and Paramount Property (Utara) chief executive officer Ooi Hun Peng.
Chew said the remainder comprised landed properties and condominiums that were priced RM350,000 onwards.
"Next year for Bukit Banyan, we will start with the launch of double-storey terraces, semi-detached and bungalow units, shophouses, low-cost apartments, townhouses, and medium-cost single-storey terraced houses. We have yet to decide on the number of units to be launched," he added.
Chew said that since 2012, the group had developed and sold 900 units of properties with a GDV of about RM300mil for Bukit Banyan, leaving a further RM700mil worth of properties to be developed.
Four decades ago, Paramount started its first development in Taman Patani Jaya, which set a new benchmark in Sungai Petani for township design and planning.
Subsequently, the group had gone on to develop more than 700 acres in the northern region, in the process building over 6,500 homes and winning the coveted FIABCI-Malaysia Best Residential Development Award in 2004 for Paramount's 493-acre Bandar Laguna Merbok development, the first residential development in the northern region and outside of the Klang Valley to do so.
"Bukit Banyan is the latest addition to Paramount Property's portfolio in the northern region.
"The master-planned township – the group's third project in Sungai Petani after Bandar Laguna Merbok and Taman Patani Jaya – will meet the growing demand for high quality affordable housing in Kedah, given the state government's initiative to spur rapid economic growth in this northern state under the 11th Malaysia Plan," he added.