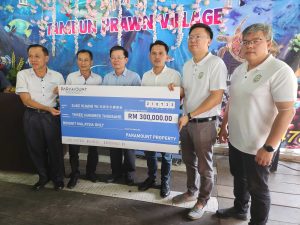 From left to right: Paramount Property's Teoh Boon Hooi and Lim Hun Chooi, Chow Kon Yeow, Goh Choon Aik, Ng Wooi Cheong and Koo Ban Tien
Batu Kawan, 7 August 2023: Paramount Corporation Berhad recently donated RM300,000 for the relocation of the 88-year old SJKC Kuang Yu from Kuala Muda, Penaga to Batu Kawan.
Paramount Property Northern Region Chief Executive Officer Ooi Hun Peng said Paramount was happy to play its role as a community leader of Batu Kawan and help uplift the lives of the people in the area. Paramount Property is the developer of the 33.8-acre Utropolis Batu Kawan.
"We are pleased to be able to participate in the social and economic growth of Batu Kawan. We, Paramount, built the UOW Malaysia KDU Penang university campus as part of the Utropolis Batu Kawan.
"There is a secondary school, Sekolah Kebangsaan Batu Kawan, just 9 minutes away by car. But as yet, there is no primary school. Thus, this is a major development for Batu Kawan.
"SJKC Kuang Yu's relocation to an economically booming place – the 6-acre land provided by the Penang Development Corporation at Jalan Cassia Barat 1 ­– also 9 minutes away, is timely.
"A primary school in Batu Kawan will benefit the people who work and live in this eco-city, especially young couples and young families, including those who live at our Utropolis Batu Kawan."
Penang Caretaker Chief Minister Chow Kon Yeow, who is also Batu Kawan MP, after witnessing the presentation of the mock cheque said, "The collaborative efforts of the private sector, particularly established corporations, have played their part in supporting the school in its relocation."
"We expect the school building in Batu Kawan to be completed in a few years before it opens for student intake in early 2027," he said.
Also present during the 21 July 2023 ceremony were Paramount Property general manager for project management Lim Hun Chooi and assistant general manager for sales and marketing Teoh Boon Hooi, SJK (C) Kuang Yu Board of director secretary Ng Wooi Cheong and deputy secretary Koo Ban Tien, and former Bukit Tambun assemblyman Goh Choon Aik.
In March, Paramount Property launched the latest phase of Utropolis Batu Kawan comprising 522 units of serviced apartments called Savana. It also launched its first industrial park in Penang, Paramount Palmera at Bukit Minyak, in June.