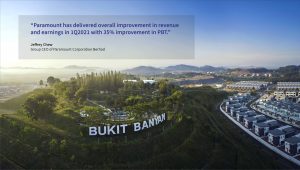 Petaling Jaya, 27 May 2022:  Paramount Corporation Berhad (Paramount) achieved a revenue of RM168.1 million (1Q2021: RM151.8 million) and a profit before tax (PBT) of RM14.6 million (1Q2021: RM10.8 million) in 1Q2022, which were 11% and 35% respectively higher than the same period last year. The profit attributable to ordinary equity holders was 119% higher at RM5 million (1Q2021: RM2.3 million).
Paramount Group CEO Jeffrey Chew said, "The Group has delivered overall improvement in revenue and earnings as the country moves into endemicity. The improved financial performance in 1Q2022 compared to the same period last year was mainly due to higher profit contribution from the property division with fewer operational disruptions this quarter compared with the corresponding period last year."
Property division
For 1Q2022, the property division achieved a revenue of RM163.9 million, which was 10% higher than that of the same period last year of RM149.6 million on the back of a larger base of ongoing development projects. The top three revenue contributors for 1Q2022 were ATWATER in Petaling Jaya,  Sejati Lakeside in Cyberjaya, and Bukit Banyan in Sungai Petani.
In line with the higher revenue coupled with the realisation of cost savings from certain completed and near completed projects, the property division recorded a PBT of RM20.7 million which was 37% higher compared to RM15.1 million in 1Q2021. Nevertheless, sales from the property division in 1Q2022 stood at RM155 million, which was 15% lower compared to RM182 million achieved last year, mainly due to fewer property launches.
 Coworking division
The coworking division revenue for 1Q2022 was RM2.2 million, 57% higher than the same period last year (1Q2021: RM1.4 million) mainly driven by higher contribution from the Tropicana Gardens outlet as well as revenue from Scalable Malaysia, Paramount's end-to-end consult, design, build and manage workspace solutions provider. On the back of the higher revenue, the coworking division recorded a lower LBT of RM0.3 million compared to a LBT of RM1.1 million in 1Q2021.
Prospects
Chew said the reopening of the economy bodes well for the property market in 2022 and hoped that the Group could regain the strong sales momentum that had been disrupted by the pandemic.
He said, "The 1Q22 gross domestic product (GDP) expansion of 5% coupled with increasing normalisation in economic activity, especially with the reopening of international borders and improving labour market conditions are positive indicators."
"Despite the recent OPR hike of 25 basis points, the prevailing low interest environment remains conducive for property demand. Malaysians with financial means will still look to property as a hedge against inflation. With rising prices of properties especially in established urban areas where land is getting scarce coupled with the increase in building material costs, there are opportunities for capital gains in the long term," said Chew.
"That said, we are mindful that the recovery of the property sector could be dampened by uncertainties related to the COVID-19 virus, any aggressive interest rate hike, rising cost of living and lower spending power," he added.
Six projects (including new phases of existing projects) are targeted for launch over the year with an estimated gross development value of RM1.3 billion. Among the new projects lined up are the Arinna Kemuning Utama smart homes in Shah Alam, The Atera, a transit-oriented development project in Petaling Jaya situated next to the Asia Jaya Light Rail Transit Station and Sejati Lakeside 2 landed homes in Cyberjaya.
In terms of its coworking and workspace solutions businesses, Chew said that he foresees greater demand for flexible workspaces as employees return to offices and more companies have adopted hybrid working setups. In this aspect, both businesses are well positioned to meet the needs of businesses whether they want to scale their workspace requirements up or down depending on their needs and market conditions.