By Natalie Khoo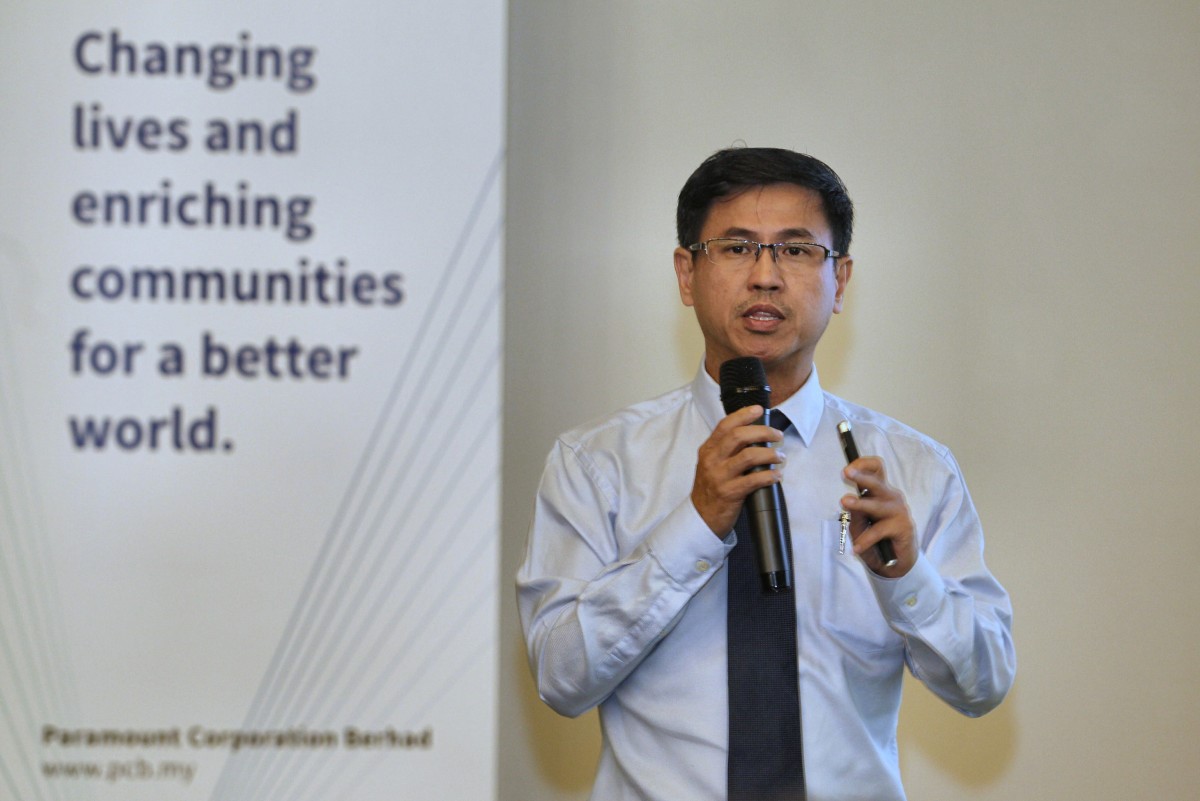 Chew said the group will derive more of its revenue from land investment. (Photo by Suhaimi Yusuf/The Edge)
PETALING JAYA (Aug 24): Property developer Paramount Property Development Sdn Bhd is on track to meet its full year sales target of RM1 billion with its 1H2018 sales already hitting RM598 million, said Paramount Corp Bhd group CEO and director Jeffrey Chew at an analyst and fund manager's briefing for Paramount Corporation's 1H2018 financial results today. Their 1H2018 sales is up by 42% from RM421million in 1H2017 while its unbilled sales as at June 30 stands at RM866 million.
"We have launched some RM708 million worth of properties including the 493 units of Atwater serviced apartment in Section 13, 247 units of Utropolis serviced apartments in Batu Kawan, 215 units of terraced houses in Bukit Banyan, Kedah and 204 units of linked houses in Greenwoods, Sepang for 1H2018," said Chew.
Meanwhile, the group is gearing up for a steady stream of launches including Suasana Tower 2 in Batu Kawan, phase two of Keranji 2-storey homes in Sepang, commercial development at Atwater and a new mixed development in Taman Berkeley, Klang and the new Sri KDU International School in the vicinity.
"I think the biggest challenge that we have for 2H2018 is the sale of the commercial development of Atwater. We have tried to put up en bloc sales of 330,000 sq ft office space for over a year. We are able to rent offices at nearly RM2.50 psf near the KLCC area but we need to have at least [rental] of RM4.50 psf [at Atwater] to command a 4-5% decent rental yield," said Chew, adding that they are unlikely to venture into any retail businesses anytime soon.
When asked if he is confident of the take-ups of their projects, Chew said catering for the right market segment with the right product supported by factors such as a lot of research and good customer service will drive project sales, as shown by the 70% take-up rate of the Atwater residential towers since they were launched in February this year despite the high price psf of over RM800.
Moving forward, the group is also planning to invest further in land for capital appreciation and monetise their existing landbank through sales, such as via the disposal of two parcels of land in Kota Damansara this year.
The profit from selling the land parcels exceeded the potential profit the group would have gained from developing them, he said.
For instance, the group could potentially earn RM33 million to RM58 million in profits if their project performed well, but the sale of the land had earned them a profit of RM43.2 million.
"The buyer bought the land to build a multi-storey warehousing which we have no expertise in. Instead, we bought a piece of land in Cyberjaya to develop properties there. In the next five years or so, we are looking to [generate sales revenue] through 30% of land [investment] and 70% property development," said Chew.
Article from EdgeProp.my
https://www.edgeprop.my/content/1417472/paramount-property-track-meet-rm1bn-sales-target