By Ashiqin Ariffin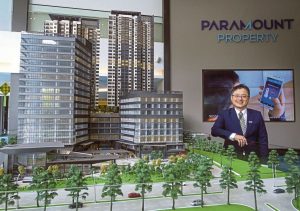 Paramount Corporation Bhd registered a higher net profit to RM11.58 million in the first quarter (1Q) ended March 31, 2023 from RM5.02 million a year ago STR/ AZIAH AZMEE
KUALA LUMPUR: Paramount Corporation Bhd registered a higher net profit to RM11.58 million in the first quarter (1Q) ended March 31, 2023 from RM5.02 million a year ago.
The property developer's revenue rose to 15.74 per cent to RM194.56 million from RM168,09 million previously on the back of improvements by the property division.
Paramount posted an earnings per share of 1.86 sen compared to 0.81 sen a year ago.
In a Bursa Malaysia filing, Paramount said its property division's revenue for 1Q23 stood at RM185.8 million compared to RM163.9 million in the previous year.
This was driven by the top three revenue contributors such as projects of Ultropolis Batu Kawan development  in Penang, Bukit Banyan development in Kedah and Berkeley Uptown development in Selangor.
As for the coworking division, the company earned a revenue of M2.9 million for 1Q23, an increase of 32 per cent from RM2.2 million a year ago.
Paramount credited the higher revenue from all co-labs coworking outlets.
For investment and others division, it recorded revenue of RM6.3 million in 1Q23, which rose 152 per cent from RM2.5 million in the previous year.
"This was mainly attributed to the higher occupancy rate and food and beverage revenue recorded by the four-star Mercure Kuala Lumpur Glenmarie," it said.
Group chief executive officer Jeffrey Chew is upbeat about the demand for the rest of the year.
"Although rising cost and interest rate hike could dampen consumer sentiment, the expected expansion of the Malaysian economy and improving labour market would be conducive for property demand.
"Riding on the strong sales momentum achieved in 1Q2023, the group targets to launch properties with an estimated gross development value of RM1.1 billion for the remaining nine months of 2023," said Chew.
As published:
New Straits Times