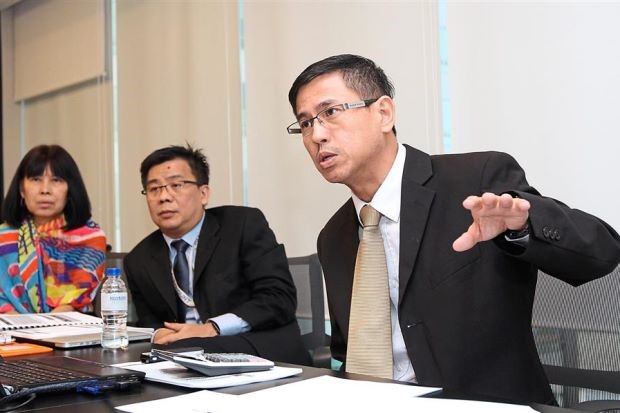 Fielding questions: Chew (right) at the briefing. With him are Paramount chief financial officer Foong Poh Seng (centre) and group chief operating officer Chris Tay Lee Kong.
PETALING JAYA: Property developer Paramount Corp Bhd (PCB), which will be ramping up its launches this year, expects annual sales for its property division to grow 11% to RM480mil in 2016.
PCB group chief executive officer Jeffrey Chew said the company was confident of hitting its target despite the subdued property market currently.
"People will think we're mad, but we're confident about property demand in certain states. We're also confident of the synergy of our business with our education division and the products we are launching," he said at a media briefing yesterday.
Chew said just because people assumed that the outlook would be poor, did not necessarily mean that things would be bad.
"Some thought that our (business) formula in 2014 would not work for 2015, but it did. This year, we will tweak it. Some people also said that 2015 would be a goner year, but gross domestic product still grew by 5%."
Chew said there is still demand for property in Malaysia, adding that there was still undersupply of homes, even in states such as Selangor.
"In Selangor itself, given its high urbanisation level, there is a shortage of houses. There is still good demand – the question is the price level."
Chew said PCB launched projects with gross development value (GDV) worth RM313mil in 2015, with sales hitting RM432mil.
"We are planning to launch projects with total GDV worth RM770mil this year."
He said the projects will comprise commercial (30%), landed residential (34%) and integrated high rise condominium (36%) developments.
The launches are from projects in Batu Kawan (RM106mil); Sekitar26 in Shah Alam (RM117mil); Paramount Utropolis @ Glenmarie, Shah Alam (RM274mil); Sejati Residences in Cyberjaya (RM107mil); Greenwoods, Salak Tinggi, Sepang (RM58mil) and Bukit Banyan, Sungai Petani (RM100mil).
"While many players are facing contractions in their revenue, we saw our property division grow in 2015," Chew said.
He said the company had 800 acres of undeveloped land bank with potential gross development value of RM8.3bil.
The company's property division contributed 74% to total revenue in 2015.
On its education division, Chew said the company is targeting to grow its student enrolment by 20% a year.
"We expect our education division to breakeven by 2018," he said.
PCB saw its full-year 2015 earnings grow by 8% to RM67.68mil, compared with RM62.47mil in the previous year, driven mainly by the property division.
Revenue for the period was 13% higher at RM576.03mil against RM510.04mil in 2014 on the back of higher contributions from the property and education divisions.