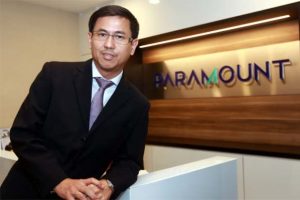 By Royce Tan 
PETALING JAYA: Paramount Corp Bhd is slowly monetising its assets in the education business and entrenching itself in the property sector, in line with its strategic plan of becoming a pure-play property group.
It is selling its K-12 education business for more than half a billion ringgit but will still maintain a minority stake in the three entities it is divesting. K-12 education is for children from kindergarten through the twelfth grade.
Paramount will receive a cash consideration of RM540.5mil for the sale of its controlling interest in three wholly owned subsidiaries – Paramount Education Sdn Bhd, Paramount Education (Klang) Sdn Bhd and Sri KDU Sdn Bhd – to Two Horses Capital Sdn Bhd.
It plans to use 32.7% of the proceeds or RM177mil – the largest portion of its intended utilisation – as a special cash dividend for its shareholders within six months of the completion of the disposal.
There are also options for Paramount to exit the target companies in the financial year 2021, or if Two Horses exercised its rights to buy the remaining equity interests.
Group chief executive officer Jeffrey Chew told StarBiz that other than stocking up its land bank and using the proceeds for its development projects, Paramount had no large investments in mind, and thus, did not plan to keep all the money to itself.
"We are slowly trying to monetise our assets in education. We are also starting to explore our strategy in property beyond the Klang Valley and Penang into slightly smaller towns (in the country) and one or two more locations outside Malaysia.
"It would be on a careful and small bite basis," he said.
Chew said the group is also quite cognisant about the digitisation process which is affecting various industries and has since made small investments in start-ups on open learning, co-working space and the online tertiary learning platform.
"We are slowly planting seeds in investments in various businesses, which could be core in the next five to 10 years. That's why the funds would be used for such purposes as well as for working capital," he said.
Following the completion of the proposed disposal, Paramount will only hold 30.3% in Paramount Education and 20% each in Paramount Education (Klang) and Sri KDU.
It will also hold an effective equity interest of 20% in REAL Education Group Sdn Bhd, of which Paramount Education holds 66%. The remaining 34% is held by Character First Sdn Bhd, all of which will be disposed of entirely to Two Horses.
The divestment is subject to approvals from the Education Ministry and shareholders.
Paramount said in a filing with Bursa Malaysia that the indicative disposal consideration of 69.7% in Paramount Education and 80% each in Paramount Education (Klang) and Sri KDU was based on the earnings before interest, taxes, depreciation and amortisation of the target companies as well as REAL Education for the financial year ended Dec 31, 2018 of RM53.8mil, multiplied by an agreed multiple of 16 times.
This results in an implied enterprise value of RM861mil for a 100% equity stake in the target companies and REAL Education.
Paramount will also realise a proforma gain on disposal of around RM487.8mil, which will translate into an improvement in earnings per share by RM1.10.
In a statement, Chew said Paramount's ambition has always been to strengthen its business locally with a view to expand regionally.
"To do so, we believe the most efficient way is to work with a strategic partner with the experience, network and financial capacity," he said, adding that Paramount would still have board representation in Sri KDU Schools and the REAL Education Group to ensure continuity in expertise and leadership in the schools.
He also said the move would help investors see Paramount's two businesses of property development and education as stand-alone. With this, Paramount will focus its resources to grow its property development division.
Chew added that Paramount still saw huge potential in the K-12 education business and there is still strong synergy between education and property development.
Two Horses is led by Tunku Ali Redhauddin Tuanku Muhriz and Ganen Sarvananthan. Tunku Ali was involved in assisting the establishment of British independent school Marlborough College in Malaysia and serves as its chairman here and as an International Council Member in the United Kingdom.
He is also the founding trustee and chairman of Teach For Malaysia and a senior adviser to TPG Capital Asia.
Ganen is a managing partner at TPG Capital Asia and was formerly Khazanah Nasional Bhd's head of investments. He also played a key role in TPG Capital Asia's investment in the Vietnam Australian International School that has about 8,500 students in seven campuses in Ho Chi Minh City.
"We are happy to embark on this journey with Paramount, the largest K-12 education group in Malaysia. We strongly believe in both the group and industry's growth potential in Malaysia and abroad," Tunku Ali said.
Rothschild & Co is the sole financial adviser to the Paramount board, while RHB Investment Bank is the sole principal adviser. Credit Suisse is buy-side adviser for the transaction while Malayan Banking Bhd
TPG Capital Asia, the Asian investment platform of global alternative asset firm TPG, will provide financing as well as strategic and operational support to Two Horses Capital, including leveraging on its network and experience in the education sphere.
Paramount closed 4.81% higher at RM2.18 yesterday, with four million shares traded.
As published: https://www.thestar.com.my/business/business-news/2019/06/21/paramount-sells-education-ops/#yzcyGW4zSVcwXZPc.99