Petaling Jaya, 18 January 2023: Paramount Corporation Berhad has donated RM33,390 to the 'Super Sarapan' meal programme run by Yayasan Generasi Gemilang, to provide meals for 50 students at SMK Kota Kemuning in the 2023 school year.
The 'Super Sarapan' programme aims to reduce food insecurity by ensuring children receive a meal a day when they are in school. It also aims to reduce school absenteeism. Families are incentivised to ensure their children continue their studies and the children themselves also look forward to going to school knowing there will be a meal waiting for them there.
Paramount Deputy Group CEO Benjamin Teo said, "The Shah Alam Kemuning community is close to our heart being the first location of Paramount Property development in the Klang Valley."
"We are happy to be able to sponsor nutritious meals for underprivileged students within our community, in line with our corporate social responsibility focusing on education and wellbeing," he said.
"Children should not be deprived of education due to poverty, and neither should they be too hungry to focus on their studies when they are in school," he said.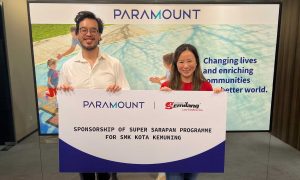 Paramount Corporation Berhad Group Deputy CEO Benjamin Teo handing over Paramount's contribution to Yayasan Generasi Gemilang CEO, Melissa Ngiam
Yayasan Generasi Gemilang CEO Melissa Ngiam said "There are many worries a student face when they are in school, and hunger shouldn't be one of them. By working with collaborators who share our concerns over student hunger and its effects on a child's education, we are able to grow our efforts to bring meaningful assistance to those in need. Especially now when families and canteen operators are feeling the weight of rising food costs, the support from Paramount will make a difference."
Aside from lightening the financial burden of a family, the assurance of a meal at school can provide much-needed stability and certainty for a child.