By Farah Adilla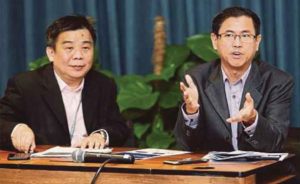 Paramount Corp Bhd group chief executive officer Jeffrey Chew Sun Teong (right) and chief financial officer Foong Poh Seng at the company's first half 2019 financial results briefing in Shah Alam yesterday. PIC BY MAHZIR MAT ISA
Group wants recurring income business, especially co-working space, to make up 10-15pc of revenue
Paramount Corp Bhd aims to grow the revenue contribution from its non-core and recurring income business, especially coworking space, to between 10 and 15 per cent from five per cent currently.
"We know that we are in the new era of investment. Hence, we are moving partially into new business and co-working space is the solution," said group chief executive officer Jeffrey Chew Sun Teong at a briefing on Paramount's first-half financial results and prospects, here, yesterday.
Chew said the company planned to double its co-working space, branded under the name of Co-labs Coworking, to 200,000 sq ft within the next 1½ years. The company is allocating capital expenditure of between RM3 million and RM4 million for each Co-labs Coworking to open up two to four centres every year.
He said the company, which had several facilities in the Klang Valley, was looking to expand into Penang and Johor. The group's existing Co-labs Coworking spaces are within Shah Alam's Glenmarie and Sekitar26 enclaves, besides The Starling mall in Petaling Jaya and Naza Tower in the city centre.
"We hope this business (coworking) can generate RM20 million to RM30 million in revenue for the next three to five years. We have secured a turnover of RM1.3 million for the first half of this year.
"For the full-year, the turnover will double to RM3 million to RM4 million as we have more locations.
"Next year, we are targeting between RM12 million and RM15 million."
Meanwhile, Chew said the company had maintained its new property sales target of RM1 billion this year, driven by new launches worth RM900 million in the second half.
As at end-June, the group had unbilled sales of about RM978 million.
As published: The News Straits Times