Property and education company will pay RM183mil for the stake
KUALA LUMPUR : Property and education company Paramount Corp Bhd will acquire a 66% controlling stake in REAL Education Group Sdn Bhd for RM183mil.
"We are excited about the prospects and the positioning that it will bring to the group, as we will be the largest K-12 player in the market and also venture into the segment of the business where KDU has not been able to build yet," Paramount chief executive officer Jeffrey Chew said at a press conference following the signing ceremony.
The stake purchase will be satisfied by a combination of internal funds and debt and will be bought over from Character First Sdn Bhd.
Paramount, whose revenue is derived mainly from property development, will increase its exposure to the education segment for recurring income.
"Profit recognition from property can be a bit lumpy. Our peers or competitors usually like to have some kind of recurring income through a mall or office because it helps when the market is slow and the profit will not fluctuate so much," Chew said.
"So for us, we don't have much investment property to give us recurring income but we will supplement that, given that 30% of our business is in KDU and this is recurring income. With REAL coming in, this will increase by 10% to 40% recurring income. This makes our group even less volatile," he said.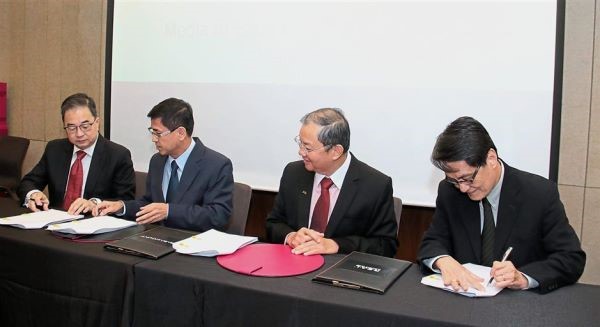 Closing the deal: (from left) Chairman of Paramount Corp Datuk Teo Chiang Quan, Chew, Ee and the founder of REAL Education Group Kee Keok Kuay during the signing ceremony.
Prior to this acquisition, Paramount also had exposure in the education sector through the KDU brand: Sri KDU Schools, KDU College Petaling Jaya and KDU University College.
The REAL Education Group will help complement the company's existing education business, as it provides education in the K-12 segment: the kindergarten, primary and secondary school levels of education.
Chew said that the acquisition gives Paramount the opportunity to offer a more affordable alternative for high-quality K-12 education, and allows the company to reach out to a wider student universe, especially in the kindergarten market.
"We will have instant access to an additional 18,000 students with this acquisition and the investment allows us to accelerate the growth plans for the Paramount Education division," he said.
In terms of financials, Chew said the acquisition has been priced at a price-to-earnings ratio of 20 times based on the end-2016 earnings of REAL Education Group.
"REAL has very strong assets in terms of real estate within the group. We find that the acquisition price is actually quite fair, as we will have a controlling stake instead of a minority stake, plus we also looked at the discounted cash-flow basis," he said.
"In terms of book value, it will be about two times," he added. REAL Education Group's president Ee Ching Wah said that the company, being a private company, does not carry out revaluations of its assets, but the directors estimate that the assets could be worth "upwards of RM200mil" with borrowings of RM60mil.
Chew said Paramount will see its gearing increase to one times after the acquisition from 0.8 times prior to that.
Ee said profit margins in the past three years had actually been on an uptrend, as it fills up capacity that has already been invested.
"We will see these margins increasing to what we have already invested until 2018. The next investment cycle will probably not pick up from 2018 but well before that, so we will be able to add in more capacity. This is the way the company has been growing throughout its history," Ee said.
Paramount expects to conclude the acquisition within three months from yesterday and sees at least the second half-year consolidation for 2017 to its earnings from REAL.
On plans to dispose some of the company's education assets to a real estate investment trust, Chew said that it would pursue this asset-light strategy through a sale and leaseback in line with what some of its peers have been doing.