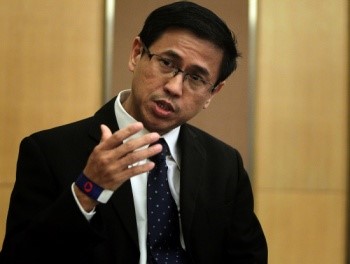 PETALING JAYA: Paramount Corp Bhd is exploring the possibility of going into property investment and setting up a real estate investment trust (REIT) as part of its five-year plan, said its group CEO Jeffrey Chew (pix).
"These are areas within our two industries which we will continue to pursue, whether it is REITs or property investment. These are the areas that are part of our strategy. We definitely want to look at property investment as one of our income streams," he told reporters after its EGM yesterday.
Chew said at the moment, the group owns a retail mall within Utropolis, a university metropolis development located in Glenmarie, Shah Alam, which will be one of its recurring income streams.
"We may expand that over time to prevent volatility of the profits due to sales demand…it is within our five-year plan. REITs is something within our radar to explore for our property and education businesses. We are still exploring on both education and property sides," he added.
Chew expects 2015 to be as challenging as 2014, as demand has softened in the higher end property market. However, demand is still strong in the affordable homes segment despite some slight impact from tighter financing guidelines.
"We want to be faster to the market, we also want to be focusing on the affordable segment (where prices range from RM400,000 to RM600,000). We also want to focus on a new segment in the market namely the Gen-Y comprising young people who have just started working and young families," he said.
This year, the group plans to continue rolling out launches within its existing projects namely Utropolis, Sejati Residences in Cyberjaya and Bukit Banyan in Sungai Petani. It also hopes to launch a new project in Salak Tinggi, Sepang.
"Salak Tinggi will be a township with landed homes priced within the range. That will be the launch that we are trying to push to get by year-end, depending on how fast we can close the transaction," he said.
The Salak Tinggi project has an estimated gross development value (GDV) of RM1.1 billion to RM1.2 billion. The group announced the acquisition of the 237.3-acre freehold land earlier this month, with a price tag of RM227.4 million.
In Penang, the group is planning and designing a 30-acre university metropolis and mixed development project located at Batu Kawan with a GDV of over RM1 billion. The project is expected to house the KDU Penang campus.
"We have 30 acres of land there, 10 acres for the school and 20 acres for a mixed development. We have to start earthworks for the university college now already. The plans are under way and we are looking at the design and concept for the mixed development … now we are working on the plan and we hope this project we can take off in 2016. That's our target," he said.
The group's current landbank, including the Salak Tinggi land, is 1,000 acres in Sungai Petani, Penang and the Klang Valley with a total potential GDV of RM9.1 billion, which will keep the group busy for 10 years.
Chew said it has no plans to enter the Johor market or expand overseas, but will continue replenishing its landbank within the areas where it already has a presence.