The Star Online > Business Thursday January 3, 2013
By FINTAN NG [email protected]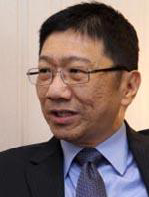 Chan: being relevant to the market.
PETALING JAYA: Paramount Corp Bhd plans to launch more integrated property projects with the unveiling of an upcoming development next week to showcase its offerings in this segment of the market.
The company, known for township projects in Kemuning Utama, Shah Alam, and Sungei Petani, Kedah, will be launching its first integrated high-rise property project in the Klang Valley on Jan 8.
Group chief executive officer Chan Say Yeong said the company's move to have more integrated projects was in line with market demand and the scarcity of prime land for township projects closer to urban centres.
"We're being relevant to the market. In the past, when land closer to downtown centres was plentiful and cheaper, we could offer landed properties. But today, with land prices so high, launch prices are beyond the reach of many, especially professionals who have just entered the workforce and young families," he told StarBiz.
Chan said there was a large group of young professionals and young families who also did not mind living in high-rise residential units sized between 800 sq ft and 1,500 sq ft with two or three bedrooms.
"There's no point for us to keep launching landed properties, especially if we end up having to acquire land parcels further away from urban centres. People will not be interested," he noted.
While Paramount will continue to offer landed properties, Chan said the market could expect more integrated high-rise projects from the company, going forward.
He said there would be a visible shift in the earnings contributions as more such projects were launched in the coming years compared to now, where all earnings from the property division was derived from township projects.
For the third quarter ended Sept 30, 2012, the property division contributed 70% of profit, with the remainder coming from the education division where KDU University College serves as the company's flagship tertiary education institute.
With that strategy in mind, the company will continue sourcing for smaller parcels of land for integrated projects. Paramount managing director Datuk Ricque Liew had said in an earlier report that land parcels could be sized from five acres to 50 or 60 acres.
One parcel that would be ripe for redevelopment is the leasehold 5.18-acre KDU University College campus located in Section 13, Petaling Jaya.
"There are plans to redevelop this property after the campus is moved to Glenmarie some time around the first quarter of 2015. We haven't really gone into the details yet as it's still on the drawing board, but we intend to do something very trendy and stylish," Chan revealed.
He said a few possibilities have been toyed around with, including offices, retail shops, serviced apartments and hotels.
"These are some of the possibilities but we still need to do some detailed feasibility studies first. We're in contact with nearby developers as we don't want to compete with them. We want our products to complement what's already there instead," Chan said.
Besides the redevelopment of the Section 13 parcel, the company has some 21.7 acres of freehold land in Glenmarie, Shah Alam. Of this, half would be for the new campus with the remainder going towards the building of a mixture of high-rise residential and commercial properties.
Chan said township projects would continue to be the company's bread and butter.
Paramount launched the first phase of the 520-acre freehold Bukit Banyan township in Sungai Petani, Kedah, recently and would be launching the first phase of the freehold 50.01-acre Cyberjaya project known as Sejati Residences soon.