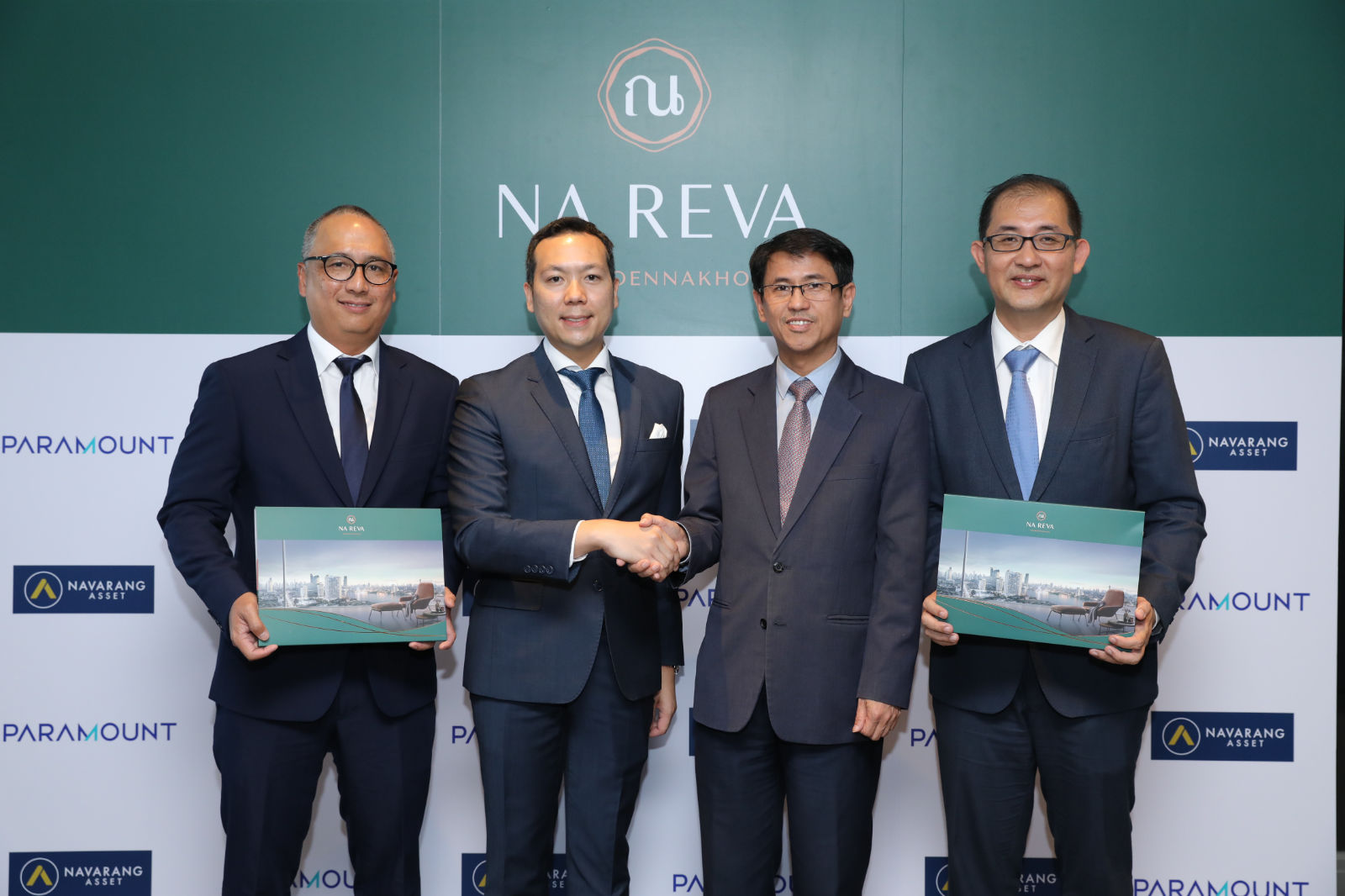 (L-R): Navarang Asset Company Ltd chief operating officer Onkarit Phromyothi; Navarang Asset chief executive officer Apipu Phromyothi, Paramount Corp Bhd group chief executive officer Jeffrey Chew and Paramount Property chief executive officer Beh Chun Chong during a signing ceremony in Bangkok recently.
KUALA LUMPUR: Paramount Corp Bhd has moved into Thai property development with the acquisition of a 49 per cent equity in a Bangkok-based company.
Group chief executive officer (CEO) Jeffrey Chew said Paramount had on January 22 signed a share purchase agreement with Navarang Asset Co Ltd to buy the stake in Navarang Charoennakorn Co Ltd (NCCL) for 60.27 million baht (RM8.44 million).
Paramount's wholly-owned Paramount Global Sdn Bhd will own the 49 per cent, while Navarang Asset will own the balance 51 per cent.
Chew said the deal opened up a new horizon for Paramount.
"This is Paramount's first venture into property development outside Malaysia. We are glad to be in Thailand through our partner Navarang Asset, a respected developer with an excellent track record in premium residential and commercial projects," he said in a statement.
Chew said Navarang Charoennakorn would launch Na Reva, a 29-storey premium condominium project, with a gross development value (GDV) of 1.3 billion baht (RM172 million) on the banks of Chao Phraya River on February 13.
"We expect Na Reva to appeal to both Thai residents and international buyers as it will be one of the new launches in the area (Charoennakhon) offering a good view of the Chao Phraya River.
"Charoennakhon is a new residential zone adjacent to Bangkok's central business district. Another project in the area was sold out within a month," said Chew.
He said the project was an attractive option for Malaysians who are looking at investing into properties overseas as condominiums in Bangkok have continued to show a good yield.
"With Paramount as a stakeholder in this project, we expect Malaysian investors to have greater confidence in considering this option," he said.
Navarang Asset chief executive officer Apipu Phromyothi said the co-investment indicates to both parties that the premium high-rise residential market remains very attractive to both local and foreign buyers.
Na Reva at Charoennakhon will feature 253 units of different layouts and sizes.
Landmarks in the vicinity include ICONSIAM, one of the largest shopping malls in Asia that just opened in November 2018, and Asiatique, the open-air mall complex that used to be the former docks of the East Asiatic Company.
The Avani Riverside Bangkok Hotel is diagonally across.
As published: News Straits Times