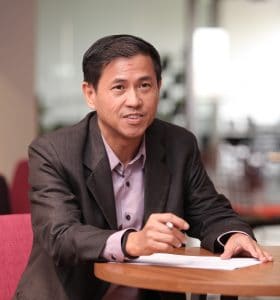 Petaling Jaya, 20 November 2019: Paramount Corporation Berhad (Paramount) recorded a 94% jump in its profit attributable to shareholders at RM30.3 million in 3Q2019, compared to the corresponding quarter last year (3Q2018: RM15.6million). The main contributor was the RM23.3 million gain from the disposal of its controlling stake in the tertiary education business which was completed on 3 September 2019.
During the nine months which ended 30 September 2019 (9M2019), the Group's profit attributable to shareholders stayed firm at RM64.9 million (9M2018: RM64.9 million) while revenue was up 7% at RM696 million compared to the corresponding period last year (9M2018: RM651.1 million).
Group Chief Executive Officer, Jeffrey Chew said, "In spite of the challenging market conditions, the Group's performance remained steady with higher profit from our property division.
"We achieved property sales of RM481 million on the back of RM714 million worth of properties launched in the first nine months. The Group's total unbilled sales of RM957 million as at 30 September 2019 is expected to contribute positively to our financial performance in the foreseeable future," he added.
Property division
9M2019 revenue from Paramount's property division increased by 11% to RM493.5 million (9M2018: RM445.6 million) mainly due to sales from its developments at Utropolis Glenmarie, Shah Alam; Utropolis Batu Kawan, Penang; Greenwoods, Salak Tinggi, Sepang; and Bukit Banyan in Kedah.
Excluding the RM43.2 million gain from the disposal of the Kota Damansara land that was completed in 2Q2018, the 9M2018 profit before tax (PBT) for the Property Division would be RM50.6 million. Hence, the 9M2019 PBT of RM70.5 million would be higher by 39%.
In 4Q2019, Paramount launched a new landed development in Cyberjaya named Sejati Lakeside located near Paramount's award-winning Sejati Residences; and Sinaran Residences serviced apartments at Utropolis Batu Kawan, Penang, the third phase launched on the back of strong sales achieved for earlier phases.
"We expect the property sector to remain soft this quarter (4Q2019). However, the lower lending rate following the reduction in the Overnight Policy Rate by Bank Negara Malaysia in May 2019 coupled with the Government's extension of the Home Ownership Campaign to 31 December 2019 are expected to improve consumer sentiments for property purchase," said Chew.
Education division
On the education front, Paramount's 9M2019 revenue was marginally lower at RM200.1 million (9M2018: RM205.3 million) mainly due to the completed sale of its controlling stake in the tertiary education business to University of Wollongong (UOW) on 3 September 2019.
9M2019 PBT for its education division rose by 15% to RM33.0 million (9M2018: RM28.7 million mainly due to the absence of depreciation of its Sri KDU and REAL Education Group assets since June 2019 subsequent to Paramount's agreement with Prestigion Education to divest its pre-tertiary (K-12) education business.
Chew said, "The proposed divestment of the controlling stake in our K-12 education business will pave the way for Paramount to focus on property development, explore new business opportunities, while retaining an effective 20% stake in the business. The transaction is expected to complete in 4Q2019."
He added that proceeds of RM540.5 million from the transaction will be used to purchase land bank, repay borrowings, used as working capital and to be distributed to shareholders as special dividends.
Other business
On the coworking spaces front, Co-labs Coworking added two new locations in 3Q2019 bringing the total space to about 85,800 sq. ft of coworking spaces in the Klang Valley. A new space of 15,500 sq. ft, adjacent to its current space at Starling Mall, opened in 4Q2019 buoyed by encouraging uptake of existing space at the mall.
"The demand for coworking space is expected to be on the rise in Malaysia, in line with global trends in coworking spaces that offer flexible, hassle-free and cost-efficient alternatives to conventional office space. This allows Paramount to create coworking spaces within our selected commercial developments and leverage on the branding of Co-labs Coworking," said Chew.
Chew said that he expected the Group's financial performance for the financial year ending 31 December 2019 to be comparable to the previous year, excluding the gain from the impending completion of the pre-tertiary business disposal.