WHILE the property sector may not be in vogue, several listed developers have diversified into other businesses that provide a cushion to the slowdown in property sales.
One such company is Paramount Corp Bhd. Its other business is education, which promises growth prospects amid the weaker ringgit.
Paramount trades at an undemanding price-to-earnings ratio (PE) of 9.76 times its financial year 2015 earnings, which is significantly lower than other listed education companies. Seg International Bhd is trading at 28 times forward PE, while Prestariang Bhd, who owns University Malaysia of Computer Science and Engineering in Putrajaya, trades a whopping 52 times its forward earnings.
At the current price, Paramount offers a dividend yield of 4% to 5% and is considered decent, on a payout policy of 40% to 50%.
Paramount is the owner of the KDU Education Group, which since the 1980s had been providing undergraduate courses. It now offers programme up to masters level.
More interestingly, Paramount ventured into the primary and secondary education levels since 2003. This segment now covers both national and international curriculum, and has turned out to be the biggest earnings contributor within the education segment of Paramount.
Paramount garners about 70% of its revenue from its property development segment, and the remaining 30% is from education business. Property makes up 80% of its profit while education, which has been on an upward trend, contributes 20%.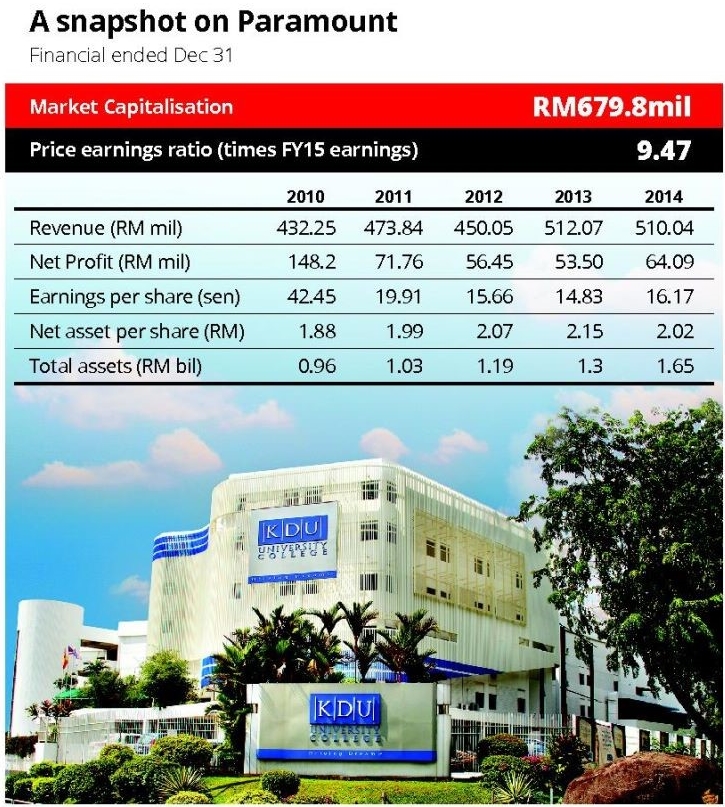 For the first half of the financial year ended June 30, 2015, Paramount's education segment revenue grew 13% year-on-year, while its property division grew 24%.
Overall, its revenue for the first half of 2015 jumped 21% and net profit grew 7% year-on-year.
However, Paramount's education arm profit for the first half of 2015 declined 6% from a year earlier due to depreciation and interest charges on its Utropolis Glenmarie campus.
With the ringgit having depreciated by some 20% since the beginning of the year, the question is, will parents still consider sending their children to local private universities and colleges?
If that is the case, KDU will be one of the clear beneficiaries considering its strong brand in the tertiary education sector.
KDU's twinning programmes would become attractive for students who prefer international degrees with some overseas exposure, at a lower cost.
However, RHB Research analyst Loong Kok Wen reckons that it would take time to see if the weaker ringgit would lead to a spike in student enrolments in local private colleges and universities.
"It is too soon to see the impact. The shift would be more apparent in 2016 if the ringgit continues to weaken," she said.
Nevertheless, RHB has a "buy" call on Paramount with a target price of RM2.40 on the back of earnings recovery this year.
The research house says it expects Paramount's FY2015 earnings to turn around, as it expects new property sales to grow by more than 25% and for additional student numbers to hit 1,000 this year.
Paramount has more than 5,000 students enrolled in its tertiary segment.
Loong notes that Paramount now plans to roll out "budget" schools under its Sri KDU brand, to capture the untapped mass market, with indicative school fees of 10% to 15% below current school fees. Sri KDU's current fees for its primary and secondary students range between RM19,000 and RM22,000 per annum for local curriculum and up to RM50,000 for international curriculum.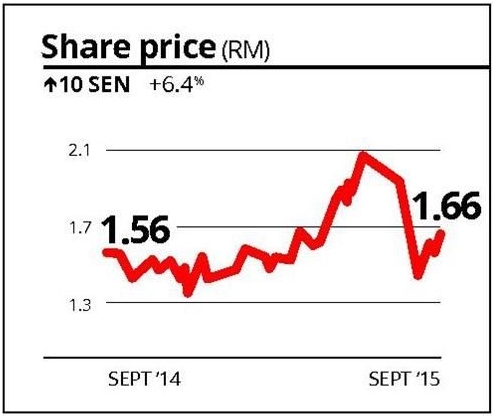 Paramount has plans to set up another Sri KDU facility in Jalan Goh Hock Huat, Klang.
This new school will have a capacity to cater to 1,500 students and construction is expected to start in 2016.
"The opening of the international school in Klang may add RM25mil to RM30mil to its top line and more than 10% contribution to the bottom line after the operation stabilises," Loong says.
Currently, Sri KDU has a total of 3,218 students, close to its capacity of 3,300 students at its Kota Damansara branch.
As for Paramount's tertiary segment, it has more than 5,000 students enrolled at its KDU University College at its new Glenmarie campus and KDU Colleges in Petaling Jaya and Penang.
Apart from Paramount's 900 acres of land bank with RM9bil gross development value (GDV), the management is looking for possibility of an asset monetisation exercise as an effort to lighten the balance sheets.
Loong says that Paramount's education property assets, the Sri KDU and KDU University College (KDUUC) in Utropolis could be disposed of.
Meanwhile, the Paramount's land parcels in its old KDU campuses have high development potential in the future given their strategic locations, such as the 2.7-acre for the Damansara Jaya campus and the two-acre for the college campus at Jalan Anson in Georgetown, Penang.
"The book value for both land parcels is only RM17 per sq ft for Damansara Jaya and RM334 per sq ft for campus in Jalan Anson, while we estimate that the market value could be at the range of RM300-RM400 per sq ft and RM600-RM700 per sq ft, respectively," Loong says.