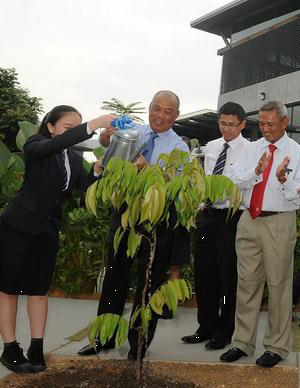 PUTRAJAYA, Oct 21 (Bernama) — Timber industry players should place more importance on branding and design to ensure that Malaysia continues to be recognised globally as a producer of high-quality wood products, says Deputy Prime Minister, Tan Sri Muhyiddin Yassin.
He said Malaysia, endowed with rich natural resources, such as varieties of timber, plantation timber, coconut trunks and bio-composite materials, could be competitive in the global wood industry.
"I would like to see the industry move quickly and develop in a sustainable manner so that it can help maximise its contributions to the country's development.
"The country is moving towards a high-income economy by 2020 and one of the strategies to achieve this goal is to strengthen the competitiveness and capabilities of the timber industry," Muhyiddin said when launching Chengal House, a club house at Sejati Residences, a high-end housing project, in Cyberjaya near Putrajaya, Tuesday.
The 1,022 square metres (11,000 square feet) Chengal House was built using reclaimed 200-year-old chengal timber by Sejati Residences developer Paramount Corporation Bhd in collaboration with the Malaysian Timber Industry Board (MTIB) and Universiti Putra Malaysia (UPM).
Commending on Paramount Corporation's effort, Muhyiddin called on wood industry players to collaborate with MTIB and institutions of higher learning to explore the country's timber market potentials.
He said the public and private sector partnership in developing resources, skills, technology, and other critical factors could help strengthen economic resilience, apart from making the domestic market more competitive in line with the National Transformation Agenda in order to move up the economic value chain.
The local timber product exports last year made up RM19.53 billion or 17 per cent of the total commodity revenue of RM114.5 billion, he said, adding that this showed that the industry had contributed consistently to the country's economic growth.
"Malaysia is Asia's third biggest and world's eight biggest exporter of high-quality wood products. The 'Made in Malaysia' trademark is currently marketed to 160 countries, including the US, Japan, Australia, Singapore and the UK," he said.
On Chengal House, Muhyiddin said it proved that high-quality wood was not only meant for aesthetic reason, but could also be used as a load bearing structure of buildings.
"I hope MTIB and UPM will continue to work with the industry, particularly manufacturers and real estate developers, on research related to the use of glued laminated timber (glulam), laminated veneer lumber and cross laminated timber as load bearing structure of buildings," he said.
At the event, Muhyiddin also witnessed the signing of a collaboration between Paramount Corporation and UPM and MTIB on research in timber usage.