By Thomas Huong
PETALING JAYA: Paramount Corp Bhd is looking at having up to a 30% stake in a five-member consortium which has applied for a digital banking licence from Bank Negara.
Paramount group CEO Jeffrey Chew said the property developer is looking at a stake of 20% to 30%, should the central bank grant the consortium a digital banking licence next year.
"We are not the majority shareholder in all these investments (digital business ventures)," said Chew during an online media briefing.
Paramount had recently paid RM13.7mil for a 30% stake in Omegaxis Sdn Bhd, which is the holding company of Peoplender Sdn Bhd that operates peer-to-peer (P2P) financing platform Fundaztic.
Meanwhile, other consortium members are Star Media Group Bhd

(SMG), RCE Capital

– a financial services company and a subsidiary of Amcorp Group Bhd, Prosper Palm Oil Mill Sdn Bhd, and a technology partner.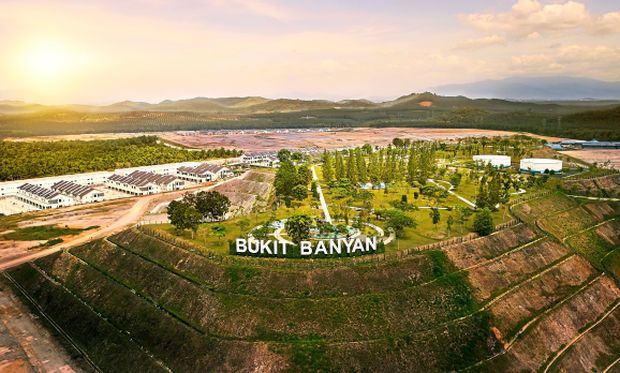 The property division's top three revenue contributors were Bukit Banyan in Kedah, Atwater in Selangor and Utropolis Batu Kawan in Penang.
Up to five digital bank licences may be issued by the central bank and successful applicants would be notified in the first quarter of 2022.
Chew said a digital bank would be very profitable as it would have lower costs involving operating brick-and-mortar branches and employee headcount.
"We envisage that a digital bank, if designed correctly and targetted at the right customer segment, with the right products and processes, and good value proposition, would definitely achieve very low cost and thus resulting a very high ROE (return on equity)," he said.
"We can put more resources in helping SMEs (small and medium enterprises) and individuals to achieve their goals," added Chew.
He also pointed out that each member in the consortium would bring different strengths to the table, citing RCE Capital's strong track record in the financial services sector, SMG's advantage as a media partner in "leveraging more effective advertising and branding, and creating awareness in the market", as well as Prosper Palm Oil Mill which would help in building a strategy that would target the agriculture segment.
For its second quarter ended June 30, 2021 (Q2FY21), Paramount posted a net profit of RM1.6mil (compared with a loss of RM4mil a year ago) while revenue almost doubled year-on-year to RM127.45mil.
The improved financial performance in Q2FY21 was mainly due to higher level of construction progress recognised, coupled with higher property sales, given the low base last year due to the first movement control order.
The property division's top three revenue contributors were Bukit Banyan in Kedah, Atwater in Selangor and Utropolis Batu Kawan in Penang.
For its first half ended June 30, 2021 (H1FY21), the group's property sales grew by 62% to RM309mil on the back of steady demand, new products from an existing project and less severe disruptions to operations compared with last year.
As at end of H1FY21, Paramount has unbilled sales of RM1bil (18% higher year-on-year), and a remaining land bank of 551 acres with a potential GDV (gross development value) of RM7.6bil.
In the pipeline for the second half are residential project launches worth RM944mil in GDV, consisting of high-rise (68%) and landed units (32%).
The new projects lined up for the second half are The Atrium, a high-rise residential development at the U-Thant enclave of Kuala Lumpur and Arinna Kemuning Utama, a low density smart home project in Shah Alam.
As published: The Star