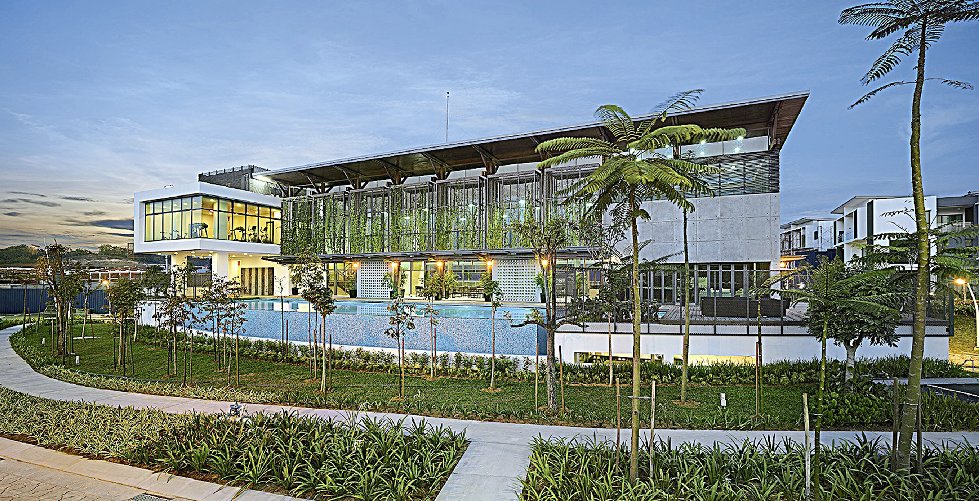 The 11,000sq ft clubhouse was designed to be eco-friendly with its roof trusses and columns made from recycled 200-year old salvaged chengal wood. (Right pic) Paramount Property division chief executive officer Datuk Liew.
Paramount Property offers buyers the chance to embrace nature in spacious, green-themed homes with the launch of Sejati Residences, its first high-end residential project in the Cyberjaya township, with its ready infrastructure and security system
BY AIMEE CHOON
[email protected]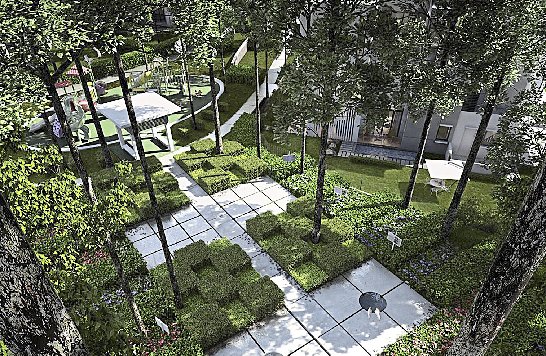 Garden of Five Senses promises peace of mind for residents.
THE prospect of living at one with nature while still enjoying the convenience of urban life may seem like an idealistic impossibility to most. It would seem that we are often forced to choose between the claustrophobia of an urban lifestyle or be resigned to living on the outskirts of a city where amenities are scarce. But with Sejati Residences, prospective home buyers can now enjoy the best of both worlds.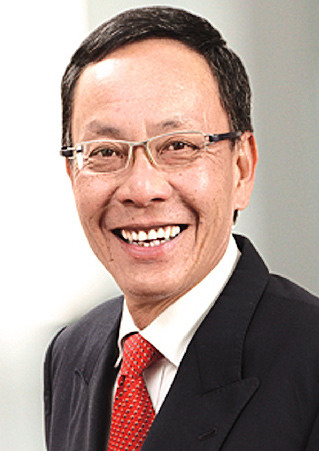 "Sejati Residences is Paramount Property᾿s first venture into Cyberjaya. This also marks its maiden venture into the high-end residential segment of the property market, an evolution from our previous developments which were township-based residential developments, priced more at the middle-and upper-middle segments of the market." said Paramount Property Division chief executive officer Datuk Ricque Liew Yin Chew.
"ιSejati᾿ means unique, authentic, natural and original" he shared.
Living up to its name, Sejati Residences' low-density development offers spacious and expansive living – with only 249 homes spread across 40 acres of undulating greenery which is designed to enable "man and nature to co-exist harmoniously". (10 acres of land is set aside for future development).
This freehold development, with an estimated total GDV (gross development value) estimated at RM800mil features a spread out cluster of bungalows, semi-detached as well as superlink units.
Phase 1 has witnessed the launch of 24 units of three-storey bungalows that come with built-up sizes ranging from 5,739sq ft to 5,890sq ft being launched which was priced from RM2.89mil nett onwards. The launch of Phase 1 of its three-storey semi-detached development comprising 28 units with built-up areas measuring from 4,287sq ft to 4,954sq ft, meanwhile, are priced from RM1.89mil nett.
Broadband-ready homes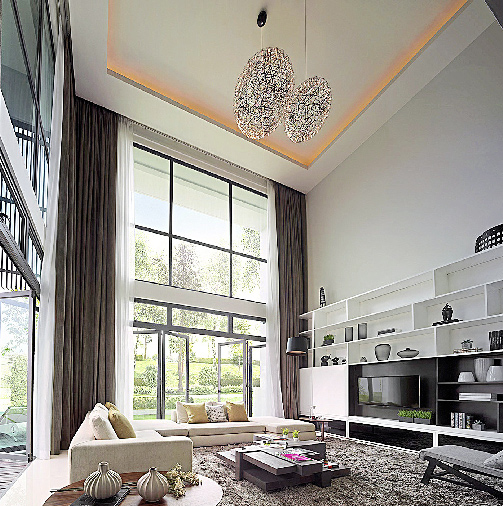 Luxe finishes as in the double-volume ceiling, well-thought out design scheme and full-length windows add grandeur to the living area of the semi-detached units at Sejati Residences.
Phase 1 of its three-storey superlink project saw the launch of its 26 units with built-up sizes ranging between 3,805sq ft and 3,838sq ft, priced from RM1.37mil nett.
Ushering the outdoors in
True to its concept of bringing the outdoors in, Sejati Residences also boasts a host of impressive eco-friendly features that will enable its residents to live in harmony with the surrounding environment.
"Environmentally friendly and sustainable concepts have been designed and built into this development. These include a rainwater harvesting system, high energy-saving hybrid DC hot water system and water-saving aerated taps plus a dual flush system in the toilets," explained Liew. The 11,000sq ft clubhouse was also designed to be eco-friendly with its roof trusses and columns made from recycled 200-year-old salvaged chengal wood. A well-equipped clubhouse, an 8km cycling and jogging track complemented by the themed Garden of Five Senses teeming with fragrant herbs and spices allow residents to partake in the beauty of nature with peace of mind. What᾿s more, linear parks will be directly accessible from the residences.
True to form and function
Staying true to form, Sejati Residences has been designed to be functional and practical, as is the signature style of the company.
"We asked SA Architects to create a development concept that would make the most of the spacious terrain and allow residents to enjoy not just their homes, but also their surroundings," said Liew.
The result was a cross-ventilated design scheme with high ceilings and wide verandahs to promote constant natural air circulation, thereby ensuring the space stays cool without the use of air-conditioning. The well-designed, spacious homes are complemented by double-volume ceilings and full-length windows that look out onto beautifully landscaped, lush gardens which bring to life the concept of bringing the outdoors in.
Super-sized decks with sun roof and sun louvres prevalent in the superlink units also serve to complement the design scheme as a celebration of the outdoors.
Convenience within reach
Sejati Residences is located in Cyberjaya, Daerah Sepang – a mere 20 minutes away from Kuala Lumpur city centre. Travel between Sejati Residences and Kuala Lumpur is made easier still by its convenient access to major highways including the MEX (Maju Expressway), Elite (North-South Expressway Centre Link), LDP (Lebuhraya Damansara-Puchong), SKVE (South Klang Valley Expressway), SILK (Sistem Lingkaran-Lebuhraya Kajang Sdn Bhd) Highway and the B15 (Putrajaya Cyberjaya Expressway).
Additionally, Sejati Residences is also situated close to the Putrajaya Sentral ERL station where passengers can take the monorail into the city centre.
In the near future, the project will be connected via the proposed MRT Line stretching from Selayang to Putrajaya.
Easy accessibility to Kuala Lumpur and other parts of the Klang Valley compounded by the freehold status of the land and the lack of other residential options are key points working in Sejati Residences' favour.
A-class facilities, super security and amenities
Sejati Residences will feature a wide variety of facilities and amenities as well as other modern conveniences within nearby distance that will cater to various lifestyle needs. These include schools, hospitals, mosques, civil services, other leisure and F&B (Food & Beverage) outlets.
The presence of about 20 higher education institutions within Cyberjaya makes this the ideal education hub for the Klang Valley.
In addition to this, residents can also enjoy peace of mind with Sejati Residences' world-class security systems. The developer has collaborated with the renowned GDSS Security Consultants to ensure that their customers are given the best in security and safety.
Its impressive security features include a multi-layered zonal system enhanced by fibre-optic fences, 24-hour CCTV cameras as well as motion detectors, all monitored from a state-of-the-art control centre ensuring safety within the gated and guarded (G&G) development.
Future potential of the place
Cyberjaya is a ready address just waiting to be tapped. It is Malaysia's ICT hub with a high ratio of local and international professionals, estimated at approximately 35,000 with a daytime population that has reached 55,000 last year. The population is expected to double to 100,000 by 2016.
Already, there is a lack of premium, family-style housing in the area to cater to the demand of the higher-end segment.
Currently, just over 4,500 residential units in Cyberjaya cater to the needs of the population. in what is perceived to be one of the fastest-growing addresses in the Klang Valley.
"In the longer term, Cyberjaya is a natural choice for those looking for larger homes and upgrades. It has a well-planned and ready infrastructure, making it a natural choice for families looking to upgrade their homes in a more conducive setting.
"There are six primary and secondary schools – local and international within 20 minutes of Sejati Residences, and close to 10 colleges and universities. It's a perfect place for families," he emphasised.
"Coupled with the fact that it is just 20 minutes from Kuala Lumpur, serviced by a good network of highways, Cyberjaya is still affordable.
"This makes Sejati Residences a perfect investment opportunity. Given that the land is freehold, a similar home 10 minutes away in Puchong would cost about 15% more," he added, further stressing on the company's proven track record of delivering value to buyers.
The first phase of the units was officially launched in Feb 2013. Phase 1 is scheduled for completion in the fourth quarter of 2014. To date, all 26 units of the super-link units have been sold.
There are also remaining units for the semi-detached and bungalow houses. Liew was upbeat about the sales of the units which he said will cater favourably to Sejati Residences' target market comprising different types of buyers.
The first category would be those who are already living and working in Cyberjaya followed by those who are looking for a larger home with better amenities within a gated and guarded environment.
The other segment is the upgraders currently residing in homes within nearby vicinity – Puchong, Subang Jaya and Sepang
This can be attributed to the fact that Cyberjaya may just be 10 minutes away from these suburbs, but prices here are about 10-15% lower for comparative homes.
There are also the international expatriates working in the different industries in Cyberjaya and investors who see the long-term potential of Cyberjaya with its young, growing population.