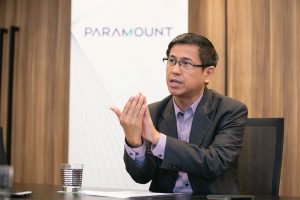 Jeffrey Chew FCCA made the headlines in 2014 when he left a highly successful career in banking to become the group CEO at Paramount, an investment holding company with interests in property development and education services.
Chew had been one of the youngest CEOs in Malaysia's banking sector when he was appointed as CEO at OCBC Bank (Malaysia) at the age of 41 in 2008. However, when the job of helming mid-tier public listed Paramount was offered to him, he found it hard to resist as its core businesses – property development and education – were areas dear to his heart.
'These two businesses particularly intrigued me, especially from the perspective of education because I think the success of any country ultimately rests on the education system,' he says.
He adds the value of education is that it can transform people into productive employees that form the nation's workforce, and be a catalyst to build businesses which create jobs for the community.
'Once I got the qualification, I knew it would create a pathway of opportunities'
Prior to joining Paramount, Chew spent 22 years in the Malaysian banking industry, half of those with Citibank, where he held various senior roles. Then, having climbed the corporate ladder all the way up to the CEO's position at OCBC Bank's Malaysian operations, he felt he now faced a glass ceiling.
'The next role for me within the banking industry was either to move to another bigger local bank or move out of the country, into a regional role,' he says, adding that a push factor for him to consider pastures beyond banking was that the industry's growth was in a slowing-down mode following the global financial crisis in 2008.
Chew was also excited about the chance to grow a mid-tier Bursa Malaysia company, in contrast to Singapore-headquartered OCBC, which is not a listed entity in Malaysia. 'In Paramount I get the chance to drive a listed company as the CEO,' he says.
Billion-ringgit challenge
Unlike the banking sector, where growth prospects were muted, Chew felt that the property and education sectors had more potential for growth. This was certainly the case for Paramount, where Chew has spearheaded a significant growth spurt. When he joined the group in 2014, its profit before tax (PBT) was about RM75m. The bottom line has steadily improved, with the company posting a PBT of RM182m last year.
On arrival, Chew was presented with a formidable task. 'One of the goals my chairman Dato' Teo Chiang Quan gave me was to make Paramount into a billion-ringgit company,' he recalls.
For Chew, this meant three things: raising the company's market capitalisation to RM1bn, hitting annual sales of RM1bn and posting annual revenue of RM1bn over the next five years. However, he was unfazed about the scale of the challenge.
'Having run a 5,000-employee company at OCBC with PBT of RM1.2bn, I knew what it takes to run a big company,' he says. 'I was confident that when I took over a smaller company I would know how to make it big.'
CV
Jeffrey Chew began his career at PwC in 1987 as a senior tax executive before joining Citibank in 1991, where he held various roles, his last as commercial banking general manager.
He then joined OCBC Bank (Malaysia) in 2003 as head of SME business, and was later made head of business banking. He was appointed director and CEO of OCBC in 2008, before being appointed group CEO at Paramount Corporation in July 2014, joining the board a year later.
Despite the stiff challenge, he is well on track to achieving these targets. 'For property sales, it looks like we are going to hit RM1bn this year. In 2017 our revenue was RM758.3m and it is likely that we can also reach RM1bn in 2018. In terms of market capitalisation, it is currently at around RM900m,' he says.
Chew says the board is pleased with the numbers achieved. 'The board is definitely very happy and we hope to continue this uptrend,' he says.
Even as he was building his career, however, Chew was mindful not to devote all his time and energy to just scaling the corporate ladder. For him, it's not just about receiving the rewards of his hard work in the workplace: it is also about giving back to society, particularly to the accountancy and banking sectors.
Sense of gratitude
Chew has contributed to ACCA in various capacities over the years; this stems from a sense of gratitude that the ACCA Qualification has benefited him tremendously in his career.
'ACCA is internationally recognised,' he points out. 'Once I got the qualification, I knew it would create a pathway of opportunities both locally as well as internationally.'
This belief proved correct: after gaining the qualification, Chew was offered positions in both local and foreign companies operating in Malaysia. He opted to begin his career at PwC before switching to the banking industry when he joined Citibank in Kuala Lumpur. During this time, he says, his ACCA training proved invaluable.
'For the first five to 10 years of my career, when facing various challenges, I could fall back on the technical knowledge and experience that I got from ACCA,' he says.
Basics
Listed on the Main Market of Bursa Malaysia and incorporated in 1969, Paramount is one of Malaysia's oldest investment holding companies. In 2017, group revenue was RM758.3m (up from RM573.1m in 2016). The group, which employs 2,500 people, has interests in property development and education services. Paramount Property's portfolio includes residential, commercial, retail, educational, industrial and integrated developments, while Paramount Education is a full-spectrum education services provider, offering the national and international curriculum in private primary and secondary schools, through to undergraduate and post-graduate programmes.
Chew has been a frequent speaker at ACCA and accountancy-related events, and served as an ACCA Malaysia Advisory Committee (MAC) member between 2013 and 2017. He has also been appointed to ACCA ExpertLink, a new panel of industry experts advising ACCA on its thinking on current and future trends affecting the profession. (See 'New opportunities', AB, January 2019.)
Last October, Chew's commitment to the organisation led to his being named the ACCA Malaysia Advocate of the Year for 2018. At a ceremony in Kuala Lumpur, ACCA chief executive Helen Brand noted that the award recognises members who have gone 'above and beyond to advocate for ACCA' and contribute towards the development of the next generation of professional accountants.
Chew says he is 'extremely honoured' to receive the award. 'Over the years, I had the privilege of being able to contribute and give back to society. That in itself is already a reward,' he says. 'Being an advocate is second nature; it is something that I do because of how ACCA has benefited me.'
The ACCA Malaysia Advocate Award is actually the second that Chew has received from ACCA. The first was in 1990, when he was named global third prize winner for the final examination, kickstarting his journey to becoming an advocate.
'After receiving the prize, I was invited by ACCA to speak at KDU University College about the qualification,' he recalls. 'So my association with ACCA as an advocate actually started in 1990.' Coincidentally, KDU is one of three tertiary educational institutions run by Paramount.
'Being an advocate is second nature; it is something that I do because of how ACCA has benefited me'
As well as his advocacy role, Chew has retained an interest in the banking sector. He is currently an independent director of the Asian Banking School and a member of Bank Negara Malaysia's Small Debt Resolution Committee.
Despite his busy schedule as a CEO of a listed company, he finds time for voluntary service in the accountancy and banking sectors. 'That's something that I'm quite happy to do and I really hope my current job allows me to continue, he says. 'I'm still only 53, and it's important to be able to keep on doing this.'
Advocacy is not Chew's only passion, though: he has also developed a penchant for long distance running. 'I have done a half marathon and 10km races but not a full marathon yet,' he says. 'I enjoy the challenge: it helps you to see what your body's limits are.'
Competitive mindset
Chew feels there are valuable lessons from running a race that can be applied in the business world. 'Running or sports gives you a competitive mindset: you must have a plan in terms of how to win the race,' he explains. 'And being competitive in sports helps you to become competitive in your work: to focus on performance and milestones.'
He explains that one can't just turn up at the competition and expect to perform well. 'Three months or six months before the race, you have to start planning your training, do your training and monitor your training. If you don't hit your milestones, you need to check what went wrong and rectify it,' he says.
The second lesson is that it helps instil discipline. 'When you are doing a half marathon, at a certain point of your training you realise how painful it is and you always ask yourself" 'Why am I doing it?'
'Often, people don't like to be disciplined but it's important to understand that discipline helps you persevere and, ultimately, through the discipline, you have a better outcome,' says Chew.
The third lesson is that sport helps you to be a team player. 'You quickly learn you need to work with people and we need to succeed as a team rather than trying to go solo.'
Apart from ACCA and sport, another key element to his development as a successful business leader and person is his strong Christian faith, which he says helps him become a better individual. His interests, both personally and professionally, have enabled Chew to grow and thrive: 'Sport is important, ACCA is important and God is also important to ensure that I have a life that is really balanced, productive and effective.'
As published: https://abmalaysia.accaglobal.com/2019/03/12/19apr_my_inter_chewparamount/pugpig_index.html