By Edmund Lee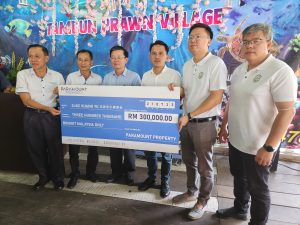 THE relocation of SJKC Kuang Yu from Kuala Muda, Penaga to Batu Kawan will become a reality soon, caretaker Chief Minister Chow Kon Yeow said.
After a series of fundraising events were held to raise funds for the school, Chow said the construction works for the school are set to take place by the end of this year.
"There are a lot of challenges along the way, but we can now look forward to the works to construct the school soon.
"We expect the school building in Batu Kawan to be completed in a few years before it is opened for students' intake in early 2027.
"The collaborative efforts of the private sector, particularly established corporations, have played their part in supporting the school in its relocation.
"Other contributors, including the community and the education groups, have also contributed to this smooth relocation process," Chow, who is Batu Kawan MP, said after witnessing Paramount Corporation Berhad's presentation of a mock cheque for RM300,000 to SJK (C) Kuang Yu in Bukit Tambun today.
Present during the ceremony were Paramount Corporation Berhad general manager Lim Hun Chooi, assistant general manager Teoh Boon Hooi, SJK (C) Kuang Yu Board of director secretary Ng Wooi Cheong and deputy secretary Koo Ban Tien.
Former Bukit Tambun assemblyman Goh Choon Aik, who was present, thanked the state for its assistance rendered to the school.
"We are looking forward to the completion of the school in Batu Kawan and opening for students' intake in 2027," he said.
Pix by Alissala Thian
As published: Buletin Mutiara