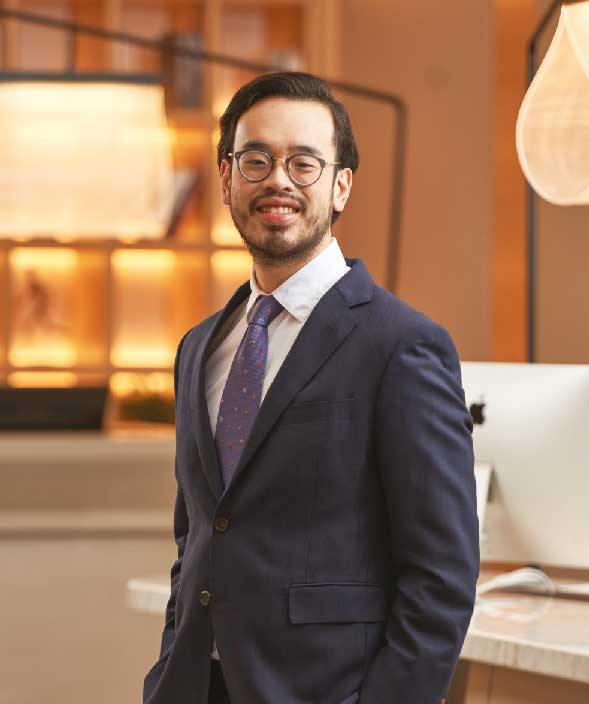 Benjamin Teo Jong Hian
Deputy Group Chief Executive Officer & Executive Director
B.A. (Hons) in Politics and Sociology, University of Nottingham, United Kingdom
Mr Benjamin Teo, a Malaysian, aged 33, joined the Board of Paramount Corporation Berhad as an Executive Director on 22 August 2019. He was appointed as Deputy Group CEO on 1 September 2021.
Mr Teo started his career at Paramount as a management trainee in 2012. He rose through the ranks to become the Director of Innovation at Paramount Property in 2015 and the CEO of Paramount Property Development Sdn Bhd in 2018.
He led the development of Co-labs Coworking, providing alternative solutions to address the changing needs of today's workforce. Co-labs Coworking has since expanded, from one space in 2016 in Glenmarie, Shah Alam to five locations across the Klang Valley today namely The Starling and The Starling Plus in Petaling Jaya, Sekitar26 Enterprise in Shah Alam, Naza Tower in KL City Centre and Tropicana Gardens in Kota Damansara.
Effective 1 March 2021, Mr Teo assumed the overall responsibility of formulating and implementing strategic and operational plans for Paramount Property, and navigating this business segment into its next phase of growth.
Mr Teo, who is the son of the late Dato' Teo Chiang Quan, is a major shareholder of Paramount.