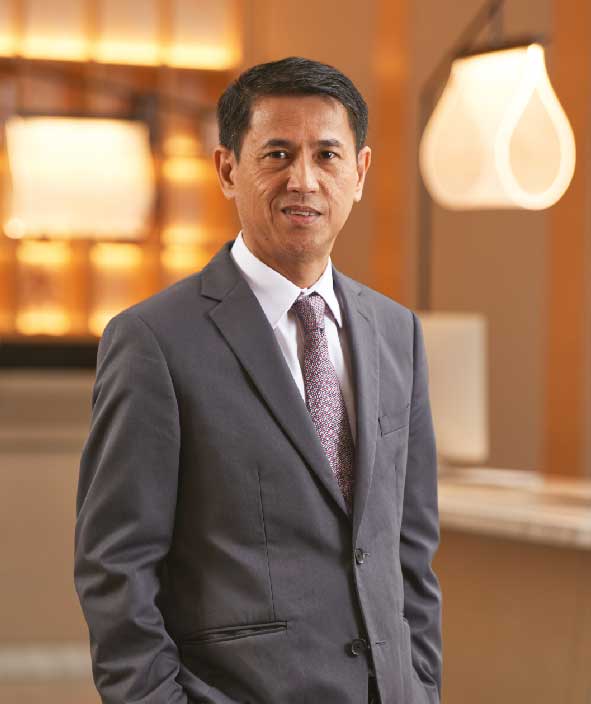 Jeffrey Chew Sun Teong
Group Chief Executive Officer & Executive Director
Fellow of the Association of Chartered Certified Accountants (ACCA), United Kingdom
Fellow of the Asian Institute of Chartered Bankers (AICB)
Member of the Malaysian Institute of Accountants
Mr Jeffrey Chew, a Malaysian, aged 56, joined Paramount Corporation Berhad on 1 July 2014 as its Group Chief Executive Officer (CEO) and was appointed to the Board on 8 June 2015.
He began his career at PricewaterhouseCoopers in 1987 and thereafter, joined Citibank Berhad in 1991, leaving as General Manager of Commercial Banking.
In 2003, he joined OCBC Bank (Malaysia) Berhad (OCBC) as Head of SME Businesses, and was subsequently promoted to Head of Business Banking. He was then appointed Director and CEO of OCBC in August 2008, a position that he helmed for six years. During his tenure at OCBC, he also served as a Director of Credit Bureau (Malaysia) Sdn Bhd, Credit Guarantee Corporation Malaysia Berhad and OCBC Al-Amin Bank Berhad.
As the Group CEO of Paramount, Mr Chew is responsible for the management of the Group's businesses and ensures that the Group's businesses deliver consistent shareholder value.
Under his management, Paramount consistently showed growth and profitability.
Paramount has launched 10 property projects comprising multiple phases since 2015, including a joint-venture in Bangkok in 2020. Locally, he led the property development team to enter Penang in 2016 and Kuala Lumpur in 2021.
Mr Chew also led the corporate exercise to build Paramount's school education business into the largest K-12 education group in Malaysia in 2017, and subsequently unlocked its value in 2019. The divestment was acclaimed as the 'Best M&A Deal of The Year 2020' by The Edge due to its hefty returns to Paramount, that also saw shareholders receiving unprecedented dividends that year.
In 2018, Paramount also divested its home-grown KDU tertiary education business to University of Wollongong, an Australian public university, thus allowing the institution to grow to a different level.
Under his leadership, Paramount garnered numerous awards, including the 'Highest Returns to Shareholders Over 3 Years' for the Property Sector at The Edge Malaysia Centurion Club Corporate Awards 2019, and more recently, two top awards at the MSWG-ASEAN Corporate Governance Awards 2020, leadingthe property industry and the market cap category of RM300 million to RM1 billion that covered all industries.
Mr Chew was on the Advisory Committee of ACCA Malaysia up to 2017. He is currently an Independent Director and Chairman of the Audit Committee of the Asian Banking School, and a member of the Small Debt Resolution Committee of Bank Negara Malaysia.