By Racheal Lee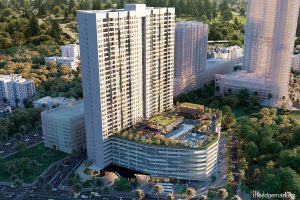 Savana is an upcoming launch in Utropolis Batu Kawan
Established 54 years ago, Paramount Corp Bhd is known for its core businesses of property development and education, particularly Kolej Damansara Utama. The college was renamed UOW Malaysia KDU after the company disposed of a majority stake in its tertiary education business in 2019. It also bowed out of the pre-tertiary education business last year.
The exit from its 30-year-old education business was not the only corporate exercise by the company in recent years. It has also ventured into the workspace solutions business (with Co-labs Coworking and Scalable Malaysia) as well as the digital space. And it made a foray into the hospitality business last year with Mercure Kuala Lumpur Glenmarie at Utropolis Glenmarie in Shah Alam, Selangor.
Paramount appears to be taking the transformation route after more than five decades in the business. Deputy group CEO and executive director Benjamin Teo tells
City & Country
that the main reason for the exit from the education business was to realise shareholder value. The company is also exploring new business opportunities.
"We had operated the education business for over 30 years at that point and we came to realise that we could only take the brand so far in the competitive landscape. So, we decided to bring in strategic partners and combine our resources to take the schools to the next level," Teo explains.
"Our group CEO [Jeffrey Chew] has a good understanding of the macroclimate, and he was the one pushing for the sale before the pandemic. We still have a lot of expertise in the education sector as well as experienced staff. We will continue to look at opportunities in education … It may not be brick-and-mortar schools but something with more growth potential. We are trying to use our domain knowledge for the businesses that may come our way."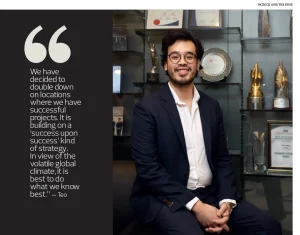 Teo, son of the group's late chairman Datuk Teo Chiang Quan, recently emerged as a substantial shareholder of the company.
With the disposal of the education business, Paramount now operates a single core business. The company is exploring its next venture, which involves investing in new businesses, especially in the digital space. These include acquisitions of stakes in peer-to-peer financing platform Fundaztic and Commerce.Asia, an e-commerce ecosystem that provides one-stop, end-to-end e-commerce solutions for brands, businesses and small and medium enterprises in Southeast Asia.
This is also in line with Paramount's five-year strategic plan to identify new sources of earnings, with a focus on the digital space.
Teo explains, "We invested in digital businesses in the last couple of years because it is safe to say that in the next 10 years, we will live in an ever more digital world … I don't think anyone will dispute that. Being solely a property developer didn't sit right with me, the other stakeholders and senior management. [Property development] serves us well now, but will it be the main catalyst of growth in the future?
"We don't know and we think there are other better opportunities for growth. Our brick-and-mortar business will be there for however long we want it to be, but we need to look at parabolic growth, and the best way is to look into other businesses such as digital. Over the next few years, we will see where we are strong and where the opportunities are."
Other than the workspace solutions business and Mercure Kuala Lumpur Glenmarie, Paramount also owns and operates Michelin-starred restaurant Dewakan at Naza Tower in Kuala Lumpur. It was the only Malaysian restaurant on the list of Asia's 50 Best Restaurants 2022.
"We are proud to say we are one of the four Michelin-starred places in the Klang Valley. I always say we are an accidental F&B player … Dewakan started as a training kitchen for the culinary school at KDU. Over the years, it established itself as a standalone restaurant and we decided to exclude it from the sale of the tertiary education business."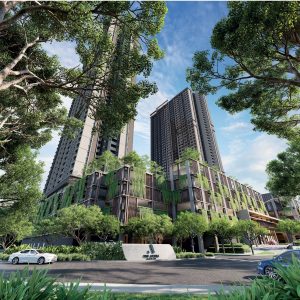 An artist's impression of The Atera, one of Paramount's latest launches last year
Property and workspace solutions
Teo says FY2022 ended Dec 31 was a good year for Paramount because of the reopening of the economy and the country's transition to the endemic phase of Covid-19. Its 9MFY2022 unaudited revenue almost matches that of the full year of FY2021.
"The nine-month top line was RM600 million, comparable with the full year of FY2021. Meanwhile, 9MFY2022 PBT (profit before tax) was RM72 million, already exceeding 2021's full year of RM70 million. It was supported by our property development business and investments, as well as some corporate exercises we have done over the years. We are on track to achieving RM1 billion [for FY2022] and our 9MFY2022 unbilled sales came in at RM1.3 billion. Our cash position will continue to be strong in the coming years," he adds.
"Our projects launched last year totalled RM1.2 billion … Property has been our main business and will continue to be so for at least the next decade. Meanwhile, our co-working business celebrated its fifth anniversary last year and it is finally contributing positively to the group. We have seen office space demand bounce back tremendously post-pandemic."
Paramount operates its property development business in two regions — central and northern (Kedah and Penang). Teo says it has 10 ongoing projects with a total gross development value (GDV) of about RM3 billion.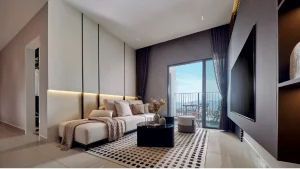 Units at The Atera measure 775 to 1,420 sq ft
This year, the developer is aiming for property sales of RM1.2 billion, supported by seven launches worth RM1.5 billion. These launches will be in Sejati Lakeside 2 (GDV of RM185 million), Greenwood Salak Perdana (GDV of RM135 million) and Ampang Hilir (GDV of RM500 million) in the Klang Valley; as well as Utropolis Batu Kawan (GDV of RM330 million), Bukit Banyan (GDV of RM135 million), Bukit Banyan 2 (GDV of RM27.5 million) and Bukit Minyak (GDV of RM160 million) in the northern region.
The new projects are in Ampang Hilir, Bukit Banyan 2 and Bukit Minyak. The Ampang Hilir development is a condominium, Bukit Banyan 2 is an extension of the existing Bukit Banyan township and the Bukit Minyak project is an industrial park.
Teo says the company's strategy is to focus on areas where its projects are located. As such, it is launching Bukit Banyan 2 this year.
"Our existing townships are mature and they have helped us identify key strategies for this year. We have decided to double down on locations where we have successful projects. It is building on a 'success upon success' kind of strategy. In view of the volatile global climate, it is best to do what we know best," he adds, noting that Paramount has a land bank of 580 acres, with a total GDV of RM8 billion in the central and northern regions.
"We are also in Thailand, having launched a 0.6-acre project before the pandemic and it is 50% sold … It is like a 'tuition fee' for our team to work with third parties to obtain a transfer of knowledge in a different country. In terms of future expansion, anything outside of Asia is not on the cards. But because of the project in Bangkok, it [the expansion plan] is ideally skewed towards Thailand."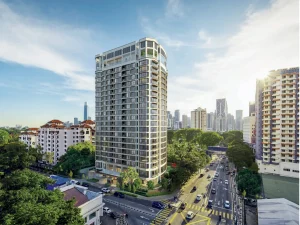 The Atrium in Jalan Ampang is a repurposed building by Paramount; the building is the former Ambassador Row Hotel Suites by Lanson Place (Photo by Paramount Corp)
Looking for opportunities to expand
Paramount operates and manages 120,000 sq ft of co-working space in five locations in the Klang Valley. "Our co-working space fits the new norm and we see a big bounce-back in demand [after the ­pandemic]. Our products fit the different workspace needs and we have a lot of flexibility to allow tenants to scale up or down anytime. We were 70%-occupied at end-2022 and we are looking for opportunities to expand in existing and new locations," Teo says.
Asked whether the company will expand its property investment portfolio, he says, "Not at this juncture. We have our office leasing business to serve a similar mandate. But as a developer, cash flow is important. Being able to buy land, develop it and cash out [as early as possible] is very important for the continuation of our business.
"Our core business will still be property, at least for the next decade. We will continue to experiment and invest here and there to see what aligns with our core value in business and what we try to achieve."
Teo remains "fairly optimistic" about the business outlook for the next 12 months, owing to the strong rebound in 2022 as well as political stability, following the 15th general election. The positive outlook is also supported by an increase in foreign interest in Malaysia, the country's projected economic growth of 4% to 5% this year, as well as stable demand for local housing.

Greenwoods Seraya (left) in Greenwoods Salak Perdana was launched in 4Q2022 and features a park (right)
Paramount will continue to invest in digital opportunities. "We have the mandate from the board and we have set aside a certain amount of our budget to look at digital opportunities … It is not just about new opportunities but also how to leverage technology to improve our current business and make it more efficient," Teo explains.
"We definitely see more potential in that matter, such as leveraging virtual reality in our property industry or technology in construction, for more precise processes and to reduce wastage. Our first step in the investment mandate is within our domain knowledge and businesses, that is, property, construction and education."
After five decades in the business, the company continues to keep itself on its toes and evolve with the times. In years to come, we may see a new Paramount with its feet planted firmly in the digital space.
As published:
The Edge